SOUTH SUBURBAN MUSICIAN PERFORMS AT MAMBY ON THE BEACH MUSIC FESTIVAL
7/4/2018, noon | Updated on 7/4/2018, noon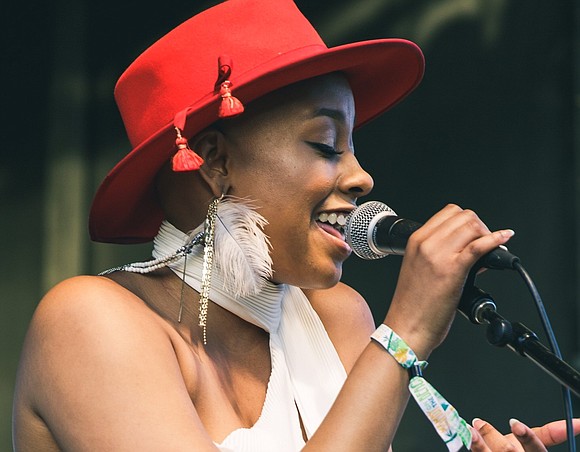 South Suburban Musician Performs At Mamby On The Beach Music Festival
BY KATHERINE NEWMAN
Longtime Village of Homewood resident, Keya Trammell, also known as Gifted Keys, recently headlined the Community Stage at Mamby on the Beach music festival. The south suburban artist creates music that she labels as a fusion of jazz, soul and funk.
Mamby on the Beach took place at Oakwood Beach in the Bronzeville neighborhood and is Chicago's only Beachside summer music festival. The two-day festival was headlined by Chicago native and hip-hop icon, Common, and rising hip-hop artist Russ.
Since she was 6 years old, Trammell has been singing and creating music. At age nine, she started a girl group with her cousins that eventually broke up and from that point, she started writing poetry. About four years ago, Trammell posted a video of herself singing that received 1.3 million views and it was then that she decided to put music at the forefront of her life.
"I thought, if this many people like it then I should just put forth the effort and once I did, I began to write more. I was always writing poetry and I began to just put music and poetry together and I wrote my first project about three years ago," said Trammell.
That first musical project, entitled The Unknown Agenda, catapulted Trammell into Chicago's music scene and has gotten her enough clout to perform on major stages around the city, including Mamby on the Beach.
"I headlined the Community Stage, which was awesome," said Trammell. "We were on different stages, but as far as timing, I was on the Community Stage and performed a 30-minute set and right after on the Beach Stage, which was less than a mile away, Common performed so it was cool to be in an environment like that where I was like, yeah I kind of opened up for Common," said Trammell.
More than being a musician, Trammell is also a long time advocate for alopecia awareness and has lived with alopecia since she was a child. Alopecia is a common autoimmune skin disease that causes hair loss on the scalp, face, and sometimes on other areas of the body.
Tramell has had alopecia since she was two years old and said that she used to think that if she couldn't even grow hair she would never be able to achieve her dreams. Today, she rarely wears a wig and her bald-headed look is borderline iconic.
"For the most part I just wear my head out and the hair that I do grow I just shave it off, but recently I have been letting my patches really show so when I'm out and about it brings forth conversation," said Trammell. "It's been an interesting year for me because it's been one full year now that I've gone wig-less and for the most part, I've felt nothing less than myself within this past year."
For information on new music and upcoming performances, you can follow Trammell on Instagram @giftedkeys.