Free Lunch Academy Serves Food For Thought
7/4/2018, noon | Updated on 7/4/2018, noon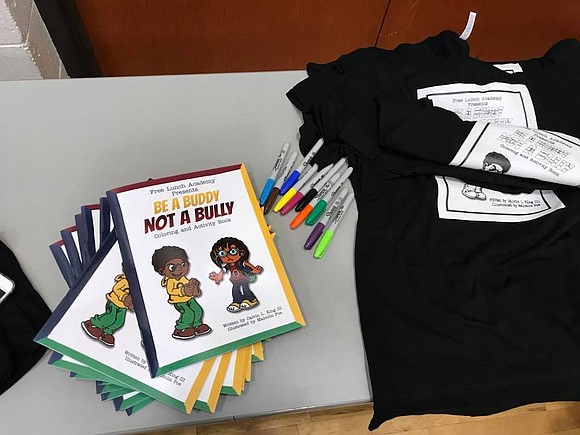 Free Lunch Academy Serves Food For Thought
By: Katherine Newman
In 2014, Calvin King founded the Free Lunch Academy, a Chicago-based traveling artistic outreach program, with the hopes of meeting students where they are to teach them how to eradicate bullying in their own schools and communities. The organization uses live performances, workshops, and career development opportunities to inspire young people to be each other's buddies instead of bullies.
"If you break it down backward, Free Lunch Academy is a school of thought that provides food for thought that's firmly rooted in educational entertainment (FREE). We are a wall-less classroom that tries to change the way that students engage with one another and change the way that students perceive themselves and others and all things social, emotional, and artistic. It's more so food for thought, not actually food," said King.
The cornerstone of the organization is an original stage play, Be a Buddy, Not a Bully, that has been evolving and traveling since it's debut in 2013.
"The performance pretty much informs audience members of the different types of bullying that exists, the different role-players in various bullying scenarios, and also what you could do to not only increase your level of awareness that bullying is on the horizon but what to do to intervene in a positive and productive manner if and when bullying occurs. Most importantly, Be a Buddy, Not a Bully teaches kids how to prevent bullying in the first place by setting up a culture that is based on inclusion, tolerance, empathy, and pretty much love," said King.
Aside from the live performance, the Free Lunch Academy also offers their Quite the Character Workshop as a follow-up to the performance. During the workshop, students learn about character building and how to be a Free Lunch Academy ambassador in their school.
Another aspect of the Free Lunch Academy is their partnership with One Summer, One Chicago that allows them to offer youth employment opportunities to even further their mission of building a more empathetic population of young people.
"I understand that a lot of the seeds that we are planting right now, we won't be around to see them manifest and harvest but somebody has to plant the seed and somebody has to water it so that it will grow and manifest a plentiful harvest. We are just trying to do our part and plant the seeds across the city and ultimately throughout the world," said King
Going global has always been King's ultimate goal and said the Free Lunch Program is working to eradicate bullying worldwide by Oct. 21, 2025.
"We really tried to make sure that we are able to take this show on the road as we have been doing but also take it in the air, across seas, take it where ever young people gather and have a message that will resonate with all students," said King.
For more information on the programs offered by the Free Lunch Academy and upcoming performances visit www.freelunchacademy.com.