CITY COLLEGES OF CHICAGO CHANCELLOR SPEAKS AT CITY CLUB
7/4/2018, noon | Updated on 7/4/2018, noon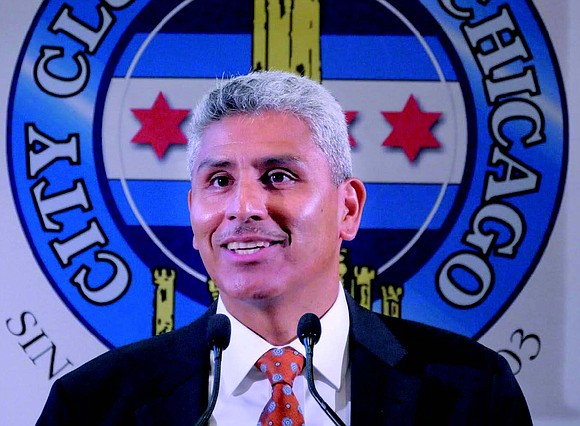 City Colleges of Chicago Chancellor Speaks at City Club
BY KATHERINE NEWMAN
The City Club of Chicago recently hosted Juan Salgado, chancellor of the City Colleges of Chicago (CCC), as their honored guest and speaker. During the afternoon event, Salgado spoke about some of the accomplishments of his first year as chancellor and his vision for the future.
As chancellor, Salgado is at the helm of CCC's network of seven community colleges which, all together, prepare over 80,000 students a year for successful careers and continuing education. The CCC network of schools includes Richard J. Daley College, Kennedy-King College, Malcolm X College, Olive-Harvey College, Harry S Truman College, Wilbur Wright College and Harold Washington College.
During the event, Salgado spoke passionately about CCC's Star Scholarship program which was established at the request of Chicago's Mayor, Rahm Emanuel. Since 2017 the Star Scholarship program has provided full tuition scholarships for all Chicago Public School students, that graduate with a 3.0 GPA and have tested completion-ready in math and English, to attend the City Colleges of Chicago school of their choice.
"There is no other city in the country that has something so similar to what we have and we include Dreamers. The Mayor has been very clear that this is for any student that gets a B average, that is a resident of our city, and has gone through Chicago Public Schools," said Salgado. "Star Scholarship is more than a scholarship, its a motivator. When you think about a ninth-grade student in Bronzeville, knowing that working hard guarantees them a tuition-free college experience gives them one extra motivator to ensure that they keep their grades up."
More than just motivating the students, Salgado said it's motivating entire families because 72 percent of Star Scholars are the first in their families to go to college.
Also in his speech, Salgado talked about plans to improve students' experiences at CCC by increasing the amount of work-based learning opportunities that exist.
"Work-based learning, whether apprenticeships or other models, must extend beyond the traditional fields of healthcare and education. Work-based learning that pays paves the way for students to start their careers in some of the highest performing companies in our city to build professional networks, on the job experience, and start on the path to wealth," said Salgado.
Salgado also referenced a recent Council on Foreign Relations report, The Work Ahead, which calls for a new U.S. workforce model where, rather than competing for talent, employers are able to build their own pipeline of new employees with community colleges. Together they can create work-based learning opportunities that will ensure the students that graduate from the partner school are prepared to meet the needs of the employer.
Over the next three months, CCC will utilize this model of engaging with employers and civic partners to build relationships and establish a clear plan to reach Salgado's goal of closing the gap between education and work.