William Josephson Discusses the Electoral College and Preparing for the 2020 Presidential Election
1/31/2018, noon | Updated on 1/31/2018, noon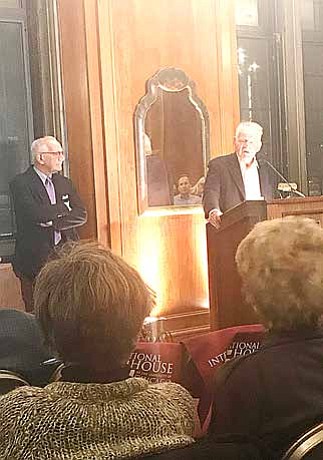 William Josephson Discusses the Electoral College and Preparing for the 2020 Presidential Election
By: Katherine Newman
The International House at the University of Chicago recently hosted William Josephson as a guest speaker who gave a talk about what can be done to prepare for the 2020 presidential election.
Josephson used the time to talk about his thoughts on the current voting system and the electoral college in the United States.
Josephson is a distinguished attorney and public servant who earned his undergraduate degree from the University of Chicago. He was awarded the University of Chicago Alumni Association's Public Service Citation in 2007 and has recently been a Shriver Fellow at the University's Institute of Politics.
Throughout the country, many people are pointing to the electoral college as the reason for President Trump claiming the win after a close race in the 2016 presidential election.
On election night, Trump received the majority of votes from the electoral college, but days later, it was confirmed that his opponent, Hillary Clinton, had actually won the popular vote, according to the Federal Elections Commission.
Since then, media and citizens have been circling around the idea of how to change the voting system. Josephson however, acknowledges the reality.
"The important thing to remember about the electoral college is that we are stuck with it," he said. There is no "practical" or "political reason" to think that either house of Congress would ever make an effort to change it, he added. "The bottom line is, why should we add another layer of complexity to something that is already so incredibly complex?"
One option specifically that has been brought up by several news outlets as an option is the National Popular Vote Interstate Compact (NPVIC), an agreement among a number of states to award all their Electoral College votes to the winner of the national popular vote. States enter the compact by passing enabling legislation through their state legislatures. The Constitution gives states the authority to select and govern their electors.
The Compact is triggered when states equaling at least 270 Electoral College votes enact the legislation. Currently, 10 states and the District of
Columbia—representing 165 electoral votes—have passed the NPVIC: California, District of Columbia, Hawaii, Illinois, Massachusetts, Maryland, New
Jersey, New York, Rhode Island, Vermont, and Washington, according to Project Vote.