Smart Museum of Art Host Family Day
1/31/2018, noon | Updated on 1/31/2018, noon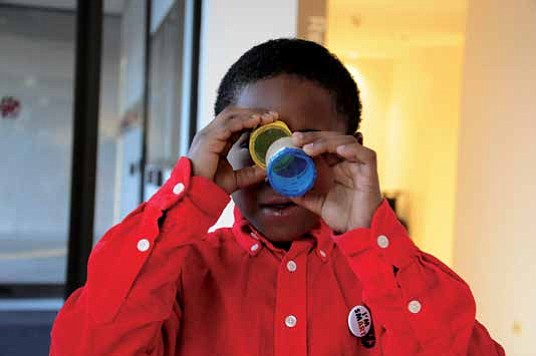 Smart Museum of Art Host Family Day
By: Katherine Newman
The Smart Museum of Art will host its monthly Family Day from 1p.m.-
4p.m on Feb. 3. The theme for February is "True Blue" in honor of Yves Klein and
his famous blue artwork that is currently on display at the museum. The event
is free and recommended for children from 4-12 years old, accompanied by an adult.
Erik Peterson, manager of family programs and student engagement at the Smart Museum of Art, designs the programs for Family Day. He makes sure that
the activities are fun and engaging for children and their caregivers.
"We really try not to just have a craft time, we want to make sure the activities that we are doing and the hands on learning that we are doing connects back to the exhibitions we have on view and the art works that we have," said Peterson.
Every family has the opportunity to briefly tour the exhibit connected to the event before they begin to participate in the days activities. The tour is brief and helps visitors get familiar with the theme of the day.
"We start with the short tour to get kids and their caregivers to talk about what they see and what the artwork actually is, we try to make it a conversation," said Peterson.
On the agenda for the True Blue Family Day are blue drawings allowing the kids to experiment with a different shade of blue in many different mediums, a blue sand box made to resemble Klein's artwork, story time with a book based on the color blue, and two live bluegrass banjo performances by Matt Brown, banjo instructor at the Old Town School of Folk Music.
"We will have a blue sand box so they can play with the sand, they can make castles, they can rake it and do all the things that are great in sand boxes, but to sort of give them that experience of touching the art work when they can't actually touch the real thing,"said Peterson.
Family Day is the main family friendly event at the Smart Museum of Art and gives families an opportunity to visit twelve times a year. Groups can also call to request a free tour of the museum that can be tailored to a specific age group and interests, according to Peterson.
For more information about upcoming Family Day events or to request a tour, visit www.smartmuseum. uchicago.edu.