Englewood Task Force Plans Health Initiative
1/31/2018, noon | Updated on 1/31/2018, noon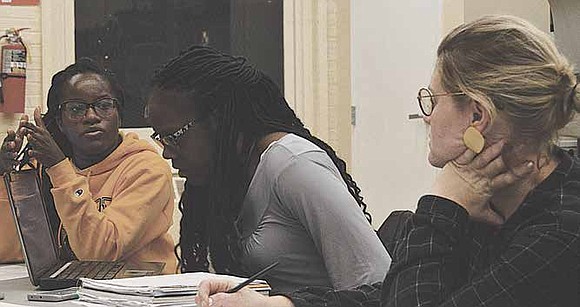 Englewood Task Force Plans Health Initiative
By Christopher Shuttlesworth
The Englewood QLP Health and Wellness Task Force, which envisions Englewood as a progressive model for health and wellness, recently held a meeting at the Ogden Park Field House to discuss creative ways its organization could collaborate with health clinics on their developing Health Navigators curriculum.
The Englewood QLP Health and Wellness Task Force consist of community residents, committed to improving the holistic health of residents through intergenerational programs and resources.
One community health representative, Alicia Williams, manager of community
outreach and engagement at Howard Brown Health, said the health clinic is hoping to receive more community support in its diabetes program.
"We are going to be training people within the community to do a peer-intervention for those who have uncontrolled diabetes," Williams said. "Through an interactive program, folks will commit to a certain amount of sessions and go through different ways to stay healthy."
Howard Brown Health was founded in 1974 and is now one of the nation's largest lesbian, gay, bisexual, and transgender (LGBTQ) organizations, according to howardbrown.org. With an annual budget of over $59 million, the agency serves more than 27,000 adults and youth each year in its diverse health and social service delivery system focused around seven major programmatic divisions: primary medical care, behavioral health, research, HIV/STI prevention, youth services, elder services, and community initiatives.
"People do not need insurance and we won't turn them away," Williams said. "We're based on a self-reported income, so if you don't make any money, then we won't charge you."
She continued to say that Howard Brown Health plans to use health models that will not only help people think about different ways to live with diabetes, but also to get individuals to think about diabetes, as a whole, differently, fostering life-changes.
"People can be referred to us and they don't have to be a patient of Howard Brown Health to receive primary care," Williams said. "Howard Brown also conducts walkins services all day. So far, we have 15 to 30 people waiting for us to open the doors in the morning."
Williams highlighted that Howard Brown Health also provides on-going therapy, in addition to psychiatry, but residents do have to establish primary care patient status for this type of therapy treatment at the clinic. For more information, visit http://www. englewoodportal.org/index.html or https://