City Breaks Ground on Upcoming Whitney Young Library
1/31/2018, noon | Updated on 1/31/2018, noon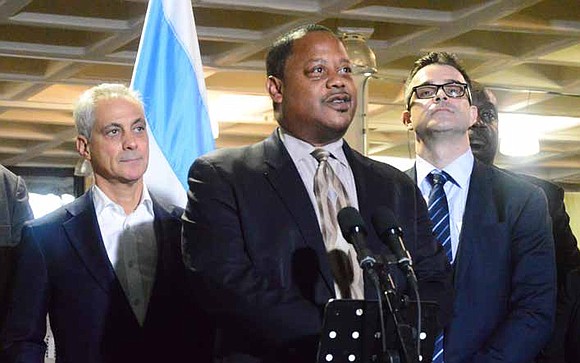 City Breaks Ground on Upcoming Whitney Young Library
By Christopher Shuttlesworth
Mayor Rahm Emanuel recently joined Alderman Roderick Sawyer, Chicago Public Library (CPL) Commissioner Brian Bannon and Public Building Commission Executive Director Carina Sanchez
to break ground on the renovation of the Whitney M. Young, Jr. Library, located on 7901 S. King Drive.
The $12 million investment will incorporate the exterior walls of the existing structure into the envelope of the new building to create a modern, state-of-the-art branch.
"I want to compliment the architect for actually re-thinking and literally taking the front door and moving it to serve all the needs of the community," Emanuel said, adding, the library is no longer a place where you just send kids to check out a book, but is now a skills and training center for community residents.
The new Whitney M. Young Jr., Branch will feature an Early Learning play space for children, a YOUmedia digital lab for teens, additional seating, state-of-the-art furniture and equipment, meeting and study spaces, expanded computer access and ADA accessibility throughout the building.
"The revitalization of critical neighborhood assets like the Whitney Young Library branch are paramount for our Chatham residents," said Alderman Roderick Sawyer of the 6th Ward. "This
investment in the library's facilities and infrastructure will provide our patrons with safe learning and gathering spaces for the children and families of this community."
The new branch will also offer one of three Experience Labs in Chicago. In October of last year, Mayor Emanuel along with David L. Cohen announced that Comcast would be making a $250,000
Internet Essentials investment with the Chicago Public Library Foundation bringing together three CPL programs into unique "Experience Labs" powered by Internet Essentials, according to a CPL press release.
"This is one of the busiest branch libraries for computer usage so we're expanding the technology to laptops, desktops, resulting in less congestion" said CPL Commissioner Brian Bannon. The library's development will be managed by the Public Building Commission (PBC), while Johnson & Lee, LTD, a
full-service Chicago-based MBE architectural firm, serves as the Architect of Record.
Frank Christopher Lee, architect and principal of Johnson & Lee, said it is an honor to design a community-oriented library because although he grew up in Woodlawn, Lee said he always
wanted to live in Chatham.
"It took 65 years for me to get to Chatham," Lee said. "But I'm so happy to be here and have an impact on this great community.
With this project, we wanted to open up the [library] more to the community. So, I'm looking forward to giving the community an updated state-of-the-art [branch] with glazed exterior."
The exterior walls of the existing structure will remain in place, allowing CPL and PBC to do a complete gut rehab and expansion, according to a CPL press release.
"This is not a complete tear down and rebuild," Carina E. Sanchez, executive director of (PBC) said. "Due to a high-quality original design and 'good bones,' the existing building is an ideal candidate for a gut renovation and expansion. This project will enhance the quality and architectural design of the neighborhood, provide jobs during the construction period and leave the community with enhanced library resources."
The City of Chicago has invested over $200 million to enhance library buildings and services, since 2011. The modernization branch project is one of many ongoing investments in Chatham, including the Cottage Grove streetscape improvement project, from 77th to 83rd Streets, and the Chatham Retail Thrive Zone, which helps support a neighborhood's economic development. For more
information, you can visit https://www.chipublib.org/.