The Black Star Project Honors Phillip Jackson
1/31/2018, noon | Updated on 1/31/2018, noon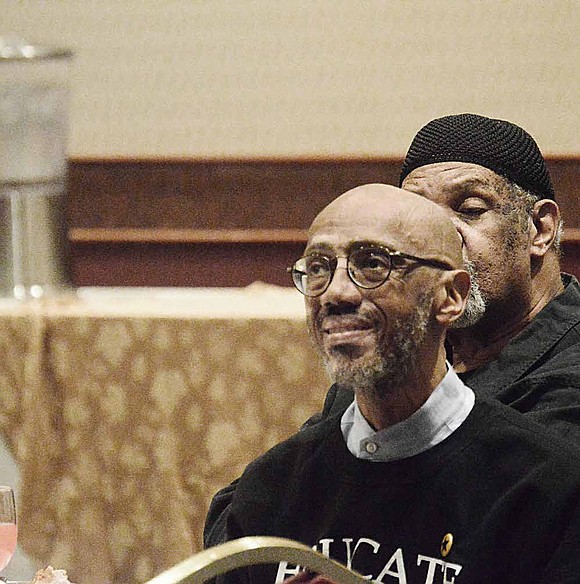 The Black Star Project Honors Phillip Jackson
By Christopher Shuttlesworth
The Black Star Project recently honored Phillip Jackson, founder and chairman of The Black Star Project Board, during a Pre-Black History Month State of Black America: Promising Practices and Solutions at Apostolic Church of God, located on 6320 S. Dorchester.
Special speakers included Dr. Byron Brazier, George Wright, director of community at Citi Development; Ghian Forman of Greater Southwest
Development Corporation; Dr. Safisha Madhubuti of Bettey Shabazz Charter School and others.
In honor of Phillip Jackson's contribution to Chicago, George Wright, director of community relations at CitiBank, spoke on economic development in local neighborhoods like Englewood.
Wright said growing up on 63rd Street, taught him that if you wanted to survive, you had to imagine and think about something more than what was there because there wasn't many positive images.
"You had to become a [consistent] reader growing up in Englewood," he said. "If you become a [consistent] reader, you will always be a life-long learner. So, I read to get my mind out of Englewood. I knew it had to be something greater."
Jackson said Black people in America have a gross national income of about $1.3 trillion but only $26 billion of the $1.3 trillion is re-circulated in the Black community.
"If Black dollars were more re-circulated in Black American communities, Black dollars would produce Black companies, help hire Black employees, support Black families and rebuild Black communities," Jackson said.
"Instead our $1.3 trillion income makes other people rich including Whites, Arabs, Koreans, Pakistanis, Indians, Latinos, Chinese, Polish, even Blacks from the Caribbean and Africa."
He continued to say if the 10,000 Chicago Faith organizations were willing to help raise consciousness and improve the re-circulation of Black dollars from 2 percent to four percent, many of the problems in Black communities would be solved by Black people with no help from Washington D.C. state housing, city halls, foundations or corporations.
"Join with The Black Star Project in the "Circulate Black Dollars in Black Communities," and receive a "Black dollar stamp," Jackson said.
"Then stamp all of your money with this stamp and use your dollars as you normally would and make a conscious effort to spend your Black "stamped"
dollars with Black people for at least one year."
Jackson said this simple plan would be legal according to Title 18, Section 333 of the United States Code and Title 18, Section 475 of the United States Code.
For more information, email blackstar1000@ ameritech.net or visit www.blackstarproject.org.