The Peach State Turns Pink
1/24/2018, noon | Updated on 1/24/2018, noon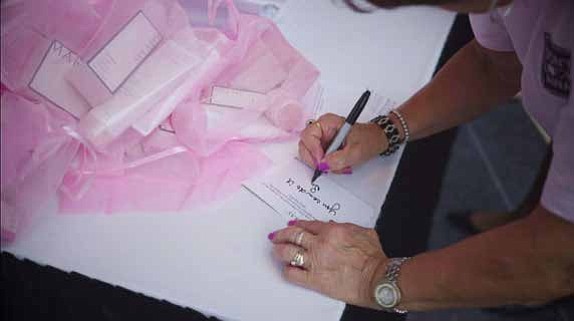 The Peach State Turns Pink
With those iconic, traffic stopping Mary Kay pink Cadillacs rolling into Georgia along with more than 7,000 Mary Kay Independent Sales Directors, the city of Atlanta turned from peach to pink for the beauty company's annual U.S. Leadership Conference held recently.
The top beauty brand and direct seller in nearly 40 countries around the world kicked off the conference on Jan. 14 at the Georgia World Congress
Center bringing $8.4 million in direct spending and an opportunity to give back to its host city.
While the four-day event focused on recognizing, educating and motivating
leaders from across the country within Mary Kay's independent sales force, attendees also assembled 2,000 care kits to distribute to five Atlanta area domestic violence shelters: Forsyth County Family Haven, Gateway House,
Partnership Against Domestic Violence, NOA's Ark/No One Alone and Project
Safe.
The care kits were filled with Mary Kay® basic hygiene products and offered a source of comfort to women at emergency shelters who often flee abusive situations with little personal belongings.
"From soaps to lotions to everyday skin care products, our clients are in desperate need of any and all necessities after many have fled unthinkable
circumstances," said Nancy Friauf, President and CEO at Partnership Against Domestic Violence.
"Throughout the years, Mary Kay Inc. and The Mary Kay Foundation℠ have continued to serve as steadfast and committed supporters of our shelter along with many other domestic violence organizations in the Atlanta area and across the country.
To receive these care kits and the Company's unwavering dedication is not only a gift but also allows us to focus on serving the survivors of an epidemic that impacts one in four women in the United States."
Each year, Mary Kay holds its U.S. Leadership Conference in a different
city. Independent Sales Directors and Independent National Sales Directors offer leadership and motivation to the growing Mary Kay independent sales force worldwide. According to the Atlanta Convention & Visitors Bureau, the 2018 conference pumps $8.4 million into the local economy.
This marks the third time Mary Kay has held its annual Leadership Conference in Atlanta following events in 2006 and again in 2012. To date, Mary Kay Inc. and The Mary Kay Foundation℠ have donated $57 million to
domestic violence prevention and awareness programs in an effort to end the cycle of abuse. For more information about Mary Kay's commitment to end domestic violence visit marykay.com/dontlookaway.