Officials, community come together to celebrate the Opening of Whole Foods Midwest Distribution Center
1/24/2018, noon | Updated on 1/24/2018, noon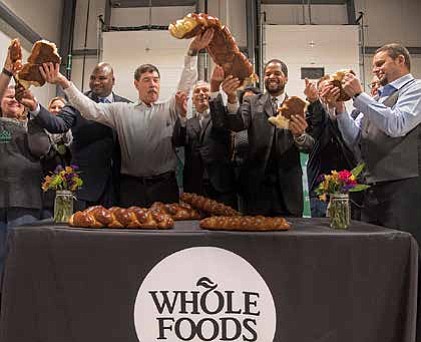 Officials, community come together to celebrate the
Opening of Whole Foods Midwest Distribution Center
By Christopher Shuttlesworth
Officials came together and "broke bread" where they recently celebrated the opening of a new 140,000 square foot Whole Foods Midwest Distribution Center which will bring 100 new jobs to the historic Pullman community.
Commenting on the recent development, Alderman Anthony Beale (9th), who was joined by Mayor Rahm Emanuel and others said, "it's a continuous effort," adding, "We are now creating more jobs for the community so people won't have to travel outside of the community to find good-paying jobs."
Pullman also recently celebrated the grand opening of the new Potbelly Sandwich Shop and the new 10,000 square foot 111th Street Gateway Retail Center.
In addition, other businesses such as Walmart, Planet Fitness, Ross Dress for Less, Method Products, Gotham Greens are located in Pullman.
"These are exciting days for Pullman," David Doig, President of Chicago Neighborhood Initiatives (CNI) said.
"Thanks to great leadership from Mayor Emanuel, the tireless work on behalf of the community by Alderman Beale and the talent and support of our community partners, the City of Chicago, local businesses and residents, Pullman is the ultimate comeback community."
Beale said Mayor Emanuel has helped with at least two dozen ground-breaking and ribbon cutting initiatives in the 9th Ward since he's been mayor of Chicago.
"We have something really special going on in Pullman," he said. "Over 1,100 people are employed right now in Pullman. So, creating job opportunities and putting people to work will help the overall housing stock where people can buy more community homes and bring more restaurants in the area, which will continue the resurgence of community opportunities."
Beale continued to say that with the recent retail openings, there is a possibility that a hotel chain may be in Pullman's future.
"This would have never happened without the manufacturing jobs; the Walmart and the upcoming Community Center," he said. "The Mayor is ecstatic about the growth and movement that we have created out here."