Noted Author Useni Eugene Perkins to Discuss New Book Rise of the Phoenix
Panel Discussion and Book Signing Kicks Off 2018 TWPF/IPE Nation Studies
1/24/2018, noon | Updated on 1/24/2018, noon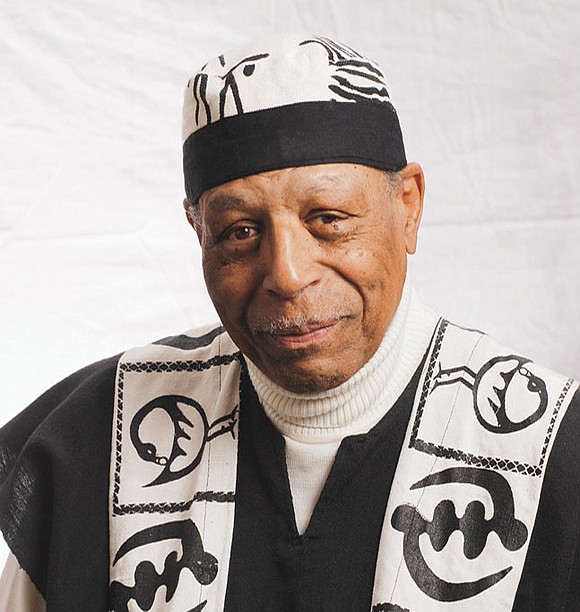 Noted Author Useni Eugene Perkins to Discuss New Book Rise of the Phoenix
Panel Discussion and Book Signing Kicks Off 2018 TWPF/IPE Nation Studies
CHICAGO (January 19, 2018) – Professor, author, poet and playwright Useni Eugene Perkins will moderate a panel discussion on his new book Rise of the Phoenix – a compilation of voices from Chicago's Black Struggle from 1960-1975. Featured guest panelists include artist Arlene Crawford, actor/teacher Runako Jahi, attorney Lawrence Kennon, retired professor Robert Starks, and engineer and Institute of Positive Education and Betty Shabazz International Charter Schools co-founder Soyini Walton.
The event is scheduled for Saturday, January 27, at the Institute of Positive Education/Betty Shabazz Academy, 7825 S. Ellis Ave., from 3:00pm-5:00pm. A book signing will immediately follow. The event is free and open to the public.


In the momentous task of documenting the lives and the voices of the people who took part in the world-expanding events of the Black Empowerment and Black Arts Movements of the 1960s and 1970s, Perkins has gathered scholars, activists, artists, educators and others who were active participants in shaping that era. Rise of the Phoenix: Voices from Chicago's Black Struggle 1960-1975 edited by Perkins is the result of more than 10 years of research, critical analysis and interviews that offer first-hand accounts of the "way things were in Chicago." This book examines the historical significance of Chicago as a pivotal focal point for the movement. More than taking a look back, Rise of the Phoenix takes a look forward as it re-examines the social, cultural, political and economic landscape of America through the lens of those who lived it.
The chronology includes a foreward by Julianna Richardson and essays by Samella Abdullah, Damali Carol Adams, Hannibal Afrik, Timuel Black, Curtis Burrell, Margaret Burroughs, James Compton, Ellis Cose, Charles Davis, Billy Dunbar, Antonio Lopez, Dwight McKee, Lu Palmer, Harold Pates, Albert Sampson, Sarudzayi Sevanhu, Conrad Worrill, Barbara Sizemore, Haki and Safisha Madhubuti, and many others.
Perkins also is publisher of Black Child Journal. In 1999, he was inducted into the Gwendolyn Brooks National Literary Hall of Fame for Writers of African Descent and was honored with the National Black Network Playwright Award, Black Ensemble Theater Playwright Award, and featured in History Makers.
His iconic "Hey Black Child" poem was published in 2017. In addition to his literary accomplishments, Useni Eugene Perkins has held leadership roles at several organizations and institutions, including Chicago's Better Boys Foundation Family Center, DuSable Museum of African American History, National Rites of Passage Institute, and the Portland Urban League, among others.
The event kicks off the 2018 Nation Studies series presented by Third World Press Foundation (TWPF) and the Institute of Positive Education (IPE). Nation Studies began in the early 1970s to provide a forum for authors, activists and artists to share their works. After years of dormancy, the Nation Studies series began again in 2015.
The mission of TWPF and IPE is to make literature accessible to as many individuals as possible. The goal of the Nation Studies series is to inform and to stimulate thought and conversation, with an emphasis on providing young activists with a forum to exchange ideas as they formulate strategies for their work.
For more than 50 years, Third World Press Foundation has published poetry, fiction, and non-fiction by the most prolific writers across multiple generations. Its writers include Pulitzer Prize-winner and Poet Laureate Gwendolyn Brooks, Amiri Baraka, Jacob Carruthers, Ossie Davis, Ruby Dee, Asa Hilliard, Julianne Malveaux, Gil Scott-Heron, as well as Next Generation writers such as Marc Lamont Hill, Lita Hooper and many more. Visit http://thirdworldpressfoundation.com/ for details.
Established in 1969, the Institute of Positive Education is a non-profit, tax exempt, community service organization. Since its inception, IPE has been committed to African-Centered education and has operated a preschool, elementary school, summer camp, teacher training center, extended day care program, parent resource library, parent study group, food co-op and has published informative quarterly bulletins on education, technology, science, politics and literature. Visit http://www.ipeclc.org/