Sketch Comedy Show Opens In Hyde Park
1/24/2018, noon | Updated on 1/24/2018, noon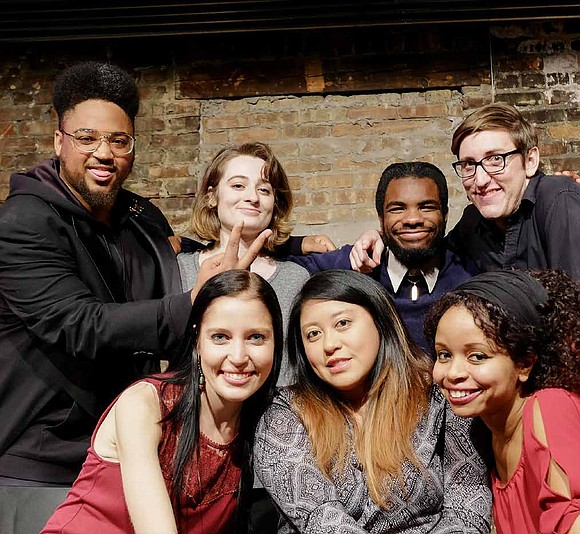 Sketch Comedy Show Opens In Hyde Park
By: Katherine Newman
The Revival Comedy Club in Hyde Park hosted opening night for Hyde Ya Kids Hyde Ya Park, the winter sketch comedy revue show, on Jan. 20. The show is being directed by Jonald Reyes and produced by Jon Stoops, founder of The Revival Theater.
The Revival produces four quarterly sketch comedy revue shows per year, Hyde Ya Kids Hyde Ya Park is the winter installment and addresses all of the big news items from the end of 2017 going into 2018, according to Stoops.
"We literally reference times, events, and news items from Hyde Park and the greater South Side while at the same time touching on national issues. It is intended to be hilarious, but hilarious in a sort of pointed, topical way," said Stoops.
A major goal of the program is to shed light on the positive things happening in and around Hyde Park, according to Reyes.
He believes that often times there are negative assumptions about South Side neighborhoods and one of he hopes to prove those assumptions wrong through this sketch comedy show.
"We start the show off immediately talking about Hyde Park because we know where we are and we know the audience that may be coming out to watch the show. We want to keep it local and also stay in the general landscape to make sure people that are coming from outside of Hyde Park know what's happening," said Reyes.
Writing the one-hour sketch comedy show was a collaboration between the production team and the cast. The sketches are based on personal experiences and current events and the overarching goal was to give a light hearted recap of some of the the noteworthy happenings between now and the last sketch comedy revue.
"Obviously the big commonality is making sure that we can keep it humorous and find the jokes or the sarcasm and the satire that will help lighten the load of what the heavy message may be," said Reyes.
Hyde Ya Kids Hyde Ya Park will run every Saturday at 7:30 until the final show on Feb. 24.