Activists Say Communities Must Engage in Social Media to Combat Violence
1/24/2018, noon | Updated on 1/24/2018, noon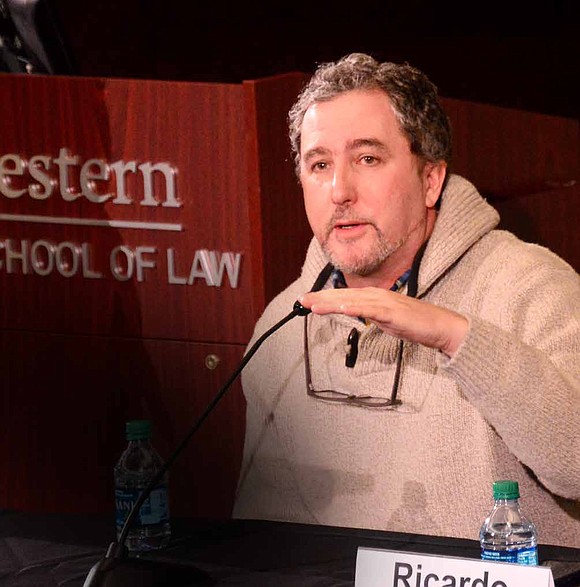 Activists Say Communities Must Engage in Social Media to Combat Violence
By Christopher Shuttlesworth
Zach Fardon, Visiting Distinguished Scholar at Northwestern Pritzker
School of Law and former U.S. attorney, recently led a panel discussion, entitled "Gun Violence in Chicago: Perspectives from Not-for-Profit Community Leaders," at Northwestern Law in the Rubloff building, 750 N. Lake Shore Drive.
During the panel discussion, Teny Gross, executive director for the Institute for Nonviolence Chicago, raised the question of why black men are willing to kill other black men and how officers are viewing communities that
pay their taxes.
"It's not enough to say don't shoot or don't kill," Gross said. "[Now,] we
have a society where we're all infected with very violent mindsets. So, what is the language that we need to teach?"
A.J. Watson, national director for Becoming A Man (B.A.M.), which serves 10,000 families and teens, through Chicago school partnerships, said he is a firm believer that if he gave every young man in the city of Chicago a
baseball bat instead of a gun, there will still be violence and reasons to lock people up for crimes. But Watson said two things wouldn't happen: you wouldn't have an accidental person being a result of someone's anger and you
would have a lot more people alive.
"The most troubling thing about the gun violence is the access to guns and the random nature," Watson said. "Although, we know violence is happening in concentrated neighborhoods, what troubles me is knowing that some of these young men are walking around as gun-shot victims or survivors."
Ricardo Estrada, president and chief executive officer (CEO) for Metropolitan Family Services, said there were more than 700 homicides in
2015-2016.
"It would have been much higher if it wasn't for the great medical capacities developed in the country and city of Chicago," Estrada said. Watson said there are a group of people perpetrating serious crimes, but the vast majority of teenagers are just trying to navigate through the complexity of high school.
"The reason why folks are carrying guns is for a sense of security or out of fear," he said. "Carrying a gun often times doesn't make you any safer or less likely to be a victim of gun violence. So, we find youth [carrying guns] because they are just trying to safely navigate to school. They say 'if I'm by myself, then I'm a potential victim or if I'm with a few guys then I'm a target.'"
Watson continued to say that social media has also helped amplify gun violence and has given people a platform to boast about things that are true and plenty of things that aren't true.
"The big issue that comes with social media is the false security of that you can post something on Facebook or Snapchat and think no one will see it or there won't be consequences," Watson said. "If you wouldn't do or say it directly to someone then what is the thought process that brings you to say I'm going to post a picture of me with a gun, calling out a rival gang or click."
Gross acknowledged that technology is neutral and everyone is still adjusting to it. But he says in order to combat gun violence, community organizations must get involved, befriend and mentor young people who are in clicks and gangs via Facebook.
"There is a new form of media and we need to adapt to it and be engage,"
Gross said. "I think social media can tell us, not law enforcement, where
threatening remarks are happening so community organizations can intervene.
The other part is beginning to control the narrative and engaging young people to solve the dialogue and find out what they're seeing and what they're language means."