Walgreens Honors Teens in 2017 Expressions Challenge
1/17/2018, noon | Updated on 1/17/2018, noon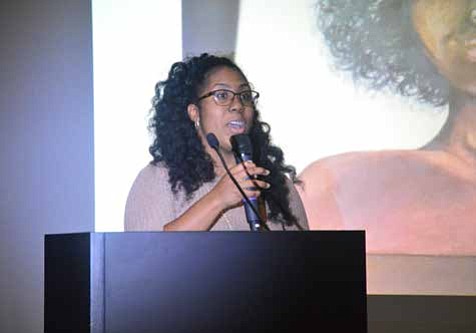 Walgreens Honors Teens in 2017 Expressions Challenge
By Christopher Shuttlesworth
Walgreens recently celebrated its 2017 Walgreens Expressions Challenge where local teens displayed their talents in creative writing, visual arts and multimedia and voiced their perspectives on teen issues, at the Museum of Contemporary Art, 220 E. Chicago Avenue.
The Walgreens Expressions Challenge is a peer-to-peer based
"healthy choice" awareness initiative where 2,000 high school students
ages 14-18, in Chicago and St. Louis, have the opportunity to submit
entries in the form of creative writing, visual arts and multimedia and share topics that affect their generation.
One of the Chicago Finalists, Garrett Miller of Kenwood Academy
wrote an essay entitled "A Poem". Miller shared his poem during
the 2017 Walgreens Expressions Challenge Awards Ceremony, which
an excerpt from Miller's essay reads below:
"This short story of my experience witnessing a form of bullying and out casting is a message to all teens to be inclusive of everybody, especially those who are greatly different from the majority.
When I opened the door and walked into the classroom for the Fourth Annual Young Men of Color Summit, my attention was immediately drawn to what appeared to be an isolated boy. He sat there alone, in the center of every school desk, surrounded by a fleet of young teens.
As I tried to comprehend why this young men was so excluded from everyone else, I questioned myself. How can no one in this room, full of teens, have the courage to at least engage in a conversation with this boy? The closer I got to him, the more I felt that it was my responsibility to acknowledge and include him. My first thought was that he may have a mental or physical impairment.
He was a young boy, wearing glasses, hunched over in a wheelchair. When I got closer, I noticed the severity of his impairment less. But after I pulled out a seat and introduced myself, I realized that his most
prominent features were his uncontrollable joy and cheers of smiles."
The rest of the Chicago Finalists included Shakayla Woods, a Percy L. Julian High School student; Tyriek Hampton, an Innovations High School student; Ana Mancera, a Mather High School student; Alexis Johnson, a Bolingbrook High School student; and Kirsten Ceralde, a Senn High School student.
Alexis Johnson, a Bolingbrook High School student, showcased her painting entitled, "True Identity," which she describes as a Black woman who wears two faces.
Johnson said Black girls are being pressured everyday to conform to society's norms and standards of beauty when it comes to hair and makeup which diminish a young Black girls' self-esteem.
"[The right side] is a depiction of how society wants Black girls to look like and the makeup and tears show the [Black woman's] emotions of how she doesn't want to be who society wants her to be," Johnson said. "On the left side you can see her natural side because she just wants to be who she is on the inside, which is her true self."
"This constant ideology is hurting Black girls, especially Black teenagers," Johnson said. "I want society to know that Black girls just want to be happy like the rest of society and be free to be who we are."
During the Awards Ceremony, the finalists took home a first place prize of $2,000 and a second place prize of $1,250.
For more information on the Walgreens Expressions Challenge and to view student submissions, visit expressionschallenge.com.