Protest erupts over postponement of AFFH
1/17/2018, 11:23 a.m. | Updated on 1/17/2018, 11:23 a.m.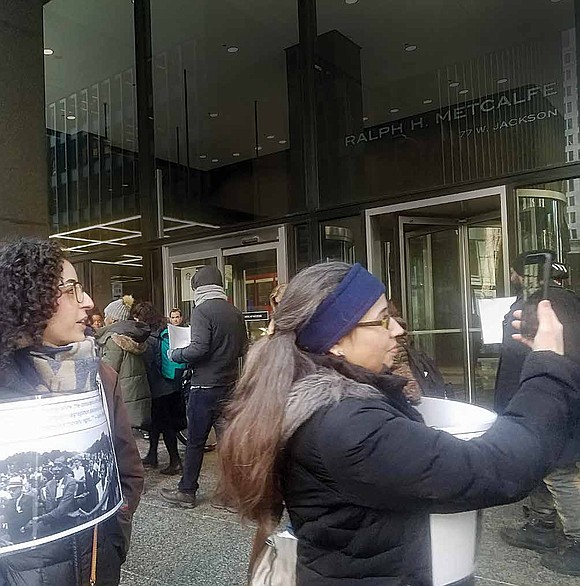 Protest erupts over postponement of AFFH
By Christopher Shuttlesworth
Hundreds of Demonstrators recently protested over the Department of Housing and Urban Development (HUD) notice that will delay enforcement of former President Barack Obama's Federal Fair Housing rule, which required cities to address patterns of racial residential segregation and inequality as a condition to continue to receive federal housing funds.
Ben Goldsmith, a representative of the Chicago Housing Initiative explained that the action of the recent protest wasn't just because of budget cuts, segregation or housing issues in Chicago, but due to HUD's postponement of Obama's Fair Housing rule entitled "Affirmative Furthering Fair Housing (AFFH)."
In 2015, the Obama administration finalized the AFFH rule, which required cities to execute plans on reducing segregation, discrimination and increasing equal housing opportunities for protected classes or risk losing out on federal block grants, according to the Chicago Housing Initiative.
"For the past 50 years, the Fair Housing Act has been in place," Goldsmith said. "The Obama AFFH rule made sure there was affordable housing in areas of opportunity or required states to add better opportunities to areas of low-income housing."
Joseph Moore, a lifelong resident of North Lawndale and a member of the Chicago Housing Initiative, said it was only right for him to stand up and fight for the equal, fair housing cause because he wakes up to the slumbness of North Lawndale community every day.
"I'm 25 years old and it's unjust how the housing opportunities are set up [here]," Moore said. "For [HUD Secretary] Ben Carson to forget about what Martin Luther King Jr. and Malcom X fought for which were equal rights, including fair housing is [wrong]."
The Trump Administration announced that Obama's AFFH rule will be suspended until 2020, and AFFH housing equity plans will no longer be reviewed, resulting in cities that were already at work on detailed fair housing plans not needing to submit future plans.
Organizations that stood together at the recent HUD protest included the Chicago Area Fair Housing Alliance, Chicago Housing Initiative Coalition, Open Communities, Kenwood Oakland Community Organization, Lugenia Burns Hope Center, Jane Addams Senior Caucus, Access Living, ONE Northside, Southside Together Organizing for Power and Metropolitan Tenants Organization. For more information, visit https://www. chicagohousinginitiative.org/.
According to a statement recently released by HUD officials, The U.S. Department of Housing and Urban Development (HUD) is extending the deadline for local units of government to submit an Assessment of Fair Housing. In a public notice to its stakeholder community, HUD reaffirmed its commitment to the Fair Housing Act and the law's requirement that recipients of HUD funding must affirmatively further fair housing. Early in this Administration, HUD embarked upon a top-to-bottom review of the Department's rules and regulations. As part of this regulatory review, HUD asked the public to offer comment on those rules that might be excessively burdensome or unclear. What we heard convinced us that the Assessment of Fair Housing tool for local governments wasn't working well. In fact, more than a third of our early submitters failed to produce an acceptable assessment—not for lack of trying but because the tool designed to help them to succeed wasn't helpful. In response to the comments we've received, we are extending the deadline to submit these required assessments while HUD invests substantial human and technical resources toward improving this Assessment of Fair Housing tool. HUD stands by the Fair Housing Act's requirement to affirmatively furthering fair housing, but we must make certain that the tools we provide to our grantees work in the real world.