Kim Stratton's Kitchen Opens in briefly River Oaks Mall
1/17/2018, noon | Updated on 1/17/2018, noon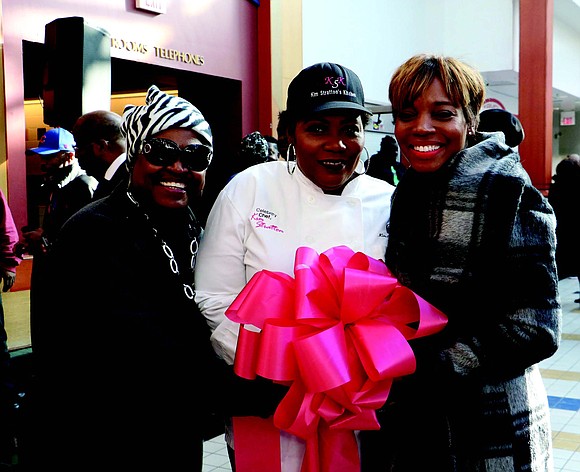 Kim Stratton's Kitchen Opens in briefly River Oaks Mall
By: Katherine Newman
A grand opening celebration was held for Kim Stratton's Kitchen on Jan. 5. The new southern cuisine restaurant is located in the River Oaks Mall food court and is the latest endeavor by Kim Stratton, a talented chef, caterer, and gospel singer/songwriter.
Stratton has been operating a successful catering business for about four years and said that opening a new restaurant was not part of her plan.
"My first restaurant was in Palatine Illinois and we outgrew it pretty much as soon as we walked in. We closed that restaurant about a year ago and were just doing catering.
It was booming so I was really not thinking about opening a
restaurant again."
While the restaurant's claim to fame and Stratton's specialty is southern cuisine, there are several different options on the menu.
"Probably, the number one dessert is the peach cobbler and everybody loves my mac and cheese, we do a six cheese macaroni and cheese," said Stratton.
Throughout her time as a chef Stratton, has always maintained a commitment to helping those less fortunate than her. She has a big heart for the homeless from her own experience with homelessness in the 90s.
Stratton hosts and caters a yearly veterans day dinner that is free to all veterans.
"I sponsor a big veterans day dinner and this year we fed 250 veterans for free and it's something that they really enjoy and look forward to," said Stratton.
Stratton did not think she would ever be opening another restaurant, but she said "it just happened" "About four or five months ago I walked into River Oaks Mall to get my makeup done to go sing and I ran into this guy who asked me if I ever thought about doing a restaurant again and I said 'no I don't want to do a restaurant again' but he said I should really think about it," said Stratton. "A couple
days later, I had a contract and I was opening a restaurant. It wasn't on my agenda. It just happened."
Kim Stratton's Kitchen is located in the River Oaks Mall, 96 River Oaks Center Drive, in Calumet City. Hours of operations are 11 a.m. to 9 p.m.