Egan says Roseland Hospital could lose $6.6 million if the hospital assessment program is shut down
1/17/2018, noon | Updated on 1/17/2018, noon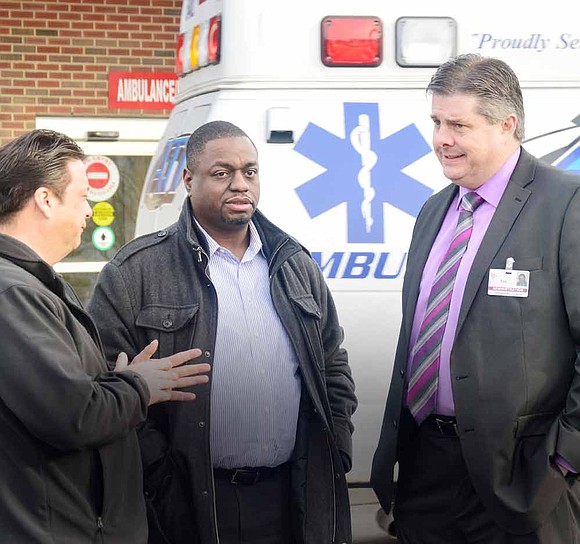 Egan says Roseland Hospital could lose $6.6 million if the hospital assessment program is shut down
By Christopher Shuttlesworth
For more than a decade, Illinois has used the hospital assessment
program to funnel billions of dollars to help fund Medicaid services to
the state's poorest residents at hospitals in Chicago and statewide.
But the hospital assessment program may go away for local hospitals like Roseland if Governor Bruce Rauner doesn't reinstate the program by June 30, 2018.
Safety-net hospitals employ 25,000 people statewide and the
hospital assessment program generates $4 billion dollars each year
for hospitals, according to the Association of Safety-Net Community
Hospitals.
Tim Egan, president of Roseland Hospital explained that Roseland Hospital, which he calls the "economic engine of the community," could lose $6.6 million if the hospital assessment program is shut down, adding, the hospital still needs an additional $10 million
to keep operations running. "To say that we're not a safety-net hospital is immoral," Egan said.
Illinois State Representative Robert Rita said the Roseland Hospital has struggled financially over the years, but has managed to work everything out until now.
"If this hospital shuts down, this would be devastating to the community," Rita said. "Where would someone in a seven-mile radius
go? Then you look at the employees who live in the community would
lose their jobs."
Illinois State Senator Emil Jones III said ironically, the state of Illinois recently identified $200 million in additional funding that can
be distributed to Medicaid hospitals like Advocate Hospital.
"They're taking away from the poor hospitals and giving to the
rich hospitals," Egan said. "It doesn't make any sense that anything would be cut from any safety-net hospital. Why would you cut if you're
bringing in $200 million more?"
Egan continued to explain that outside experts researched and
found that the state of Illinois can distribute an additional $300 million, resulting in a pool of $500 million for the Illinois Hospital
Assessment program. Yet, money is still being taken away from
hospitals like Roseland, which may be shut down, he said.
On Sept. 18, 2017, the Illinois Health and Hospital Association
(IHA) shared preliminary hospital data for its most recent assessment
model. In the most recent model, Roseland Hospital loses more than
$19 million in assessment payments. The reduction to Roseland Hospital and other similar safety net hospitals is due to the fact that
the data IHA is using in its new model to formulate payments does
not include Managed Care Organization (MCO) denials or settlements
between hospitals and managed care organizations, according to House Bill 4099.
Therefore, the data shared by the IHA is, according to the safetynet
hospitals, up to 30 percent inaccurate. The large reduction to Roseland Hospital would result in the hospital closing in a matter of weeks.
"Just to cut almost $20 million out of their budget would completely devastated this hospital," Jones said. "If I have to camp out here 24/7 to prevent Roseland Hospital from shutting down, I would."
Jones explained that a bi-partisan task force has been established
to work with IHA and state agencies to form a better formula, but the
numbers that IHA presented to the task force in November were still
outdated.
He continued to say that he believes at this point, Governor Bruce Rauner needs to get involved like previous Governors who understood what Roseland hospital meant to the community and to the community's economic development.
"Time is running out and folks need to come to the table," Jones
said. "They know where we need to be and they know exactly what they need to do. They just need to agree and do it."
John Hoffman, communications director for the Illinois Department of Healthcare and Family Services, said safety net hospitals have always been an important part of the department's mission to provide healthcare access in struggling communities and will continue being part of the evolving healthcare delivery system in Illinois.
"Our overall goal for the program going forward should be to ensure that payments to hospitals follow services for Medicaid beneficiaries," Hoffman said. "Dollars should be invested in a way that makes sure quality care is provided to those with limited resources, regardless of where they live."