Village of Flossmoor Will Use MLK Day For Service Projects
1/10/2018, noon | Updated on 1/10/2018, noon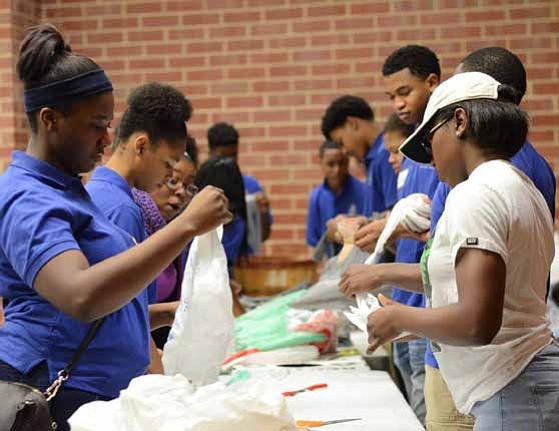 Village of FLossmoor WIll Use MLK Day For Service Projects
By: Katherine Newman
Many people will have the day off on Jan. 15 in observation of Martin Luther King Jr. Day. The Village of Flossmoor is encouraging it's residents to consider this day off a "day on" and spend the time engaging in community service projects during the fourth annual Martin Luther King Jr. Day of Service, organized by the Flossmoor Community Relations Commission.
"I think that our Community Relations Commission is focused on getting people involved and one thing that the community shares is a concern for people who don't have the same advantages or opportunities as them," said Allison Deitch, Assistant Village Manager for the Village of Flossmoor. "You will find a very active volunteer culture here and culture of service.
Volunteer opportunities will be available across the village, with many things happening at the Flossmoor Village Hall. People of all ages are welcome to come to the Village Hall from 2-4p.m. to help load the Respond Now truck with food donations.
"The day of service is for all ages, but we find that it becomes a family event, a lot of the projects are aimed toward getting families involved," said Deitch.
Several other events are listed on the Flossmoor website with information about the service project, time and place, volunteer requirements, and how to RSVP for the project. Projects will continue to be added until the day of service.
Whether you have the day off or not, all members of the community are able to honor Dr. King's legacy through donations.
"Village Hall is a good place to donate ahead of time," said Deitch. Many organizations are asking for donations as part of their service projects. Some items include non-perishable food items, broken crayons, empty and clean milk jugs, spray bottles, gently used winter clothing items such as hats, gloves, coats and sweatshirts. More information about what is needed and where to take it, visit the Flossmoor website.
Local non-profit organizations, community groups, and businesses are encouraged to host a service project and Flossmoor will promote it and connect the business with volunteers. So far, there are hundreds of volunteer spots listed and some projects are already filled.
To see a list of service projects, sign up to volunteer, get more information about donations, or host a project visit,flossmoor.org. or call the Village of Flossmoor at (708)798-2300.