L'Oréal Paris Announces Aja Naomi King As Newest Celebrity Spokesperson
1/10/2018, noon | Updated on 1/10/2018, noon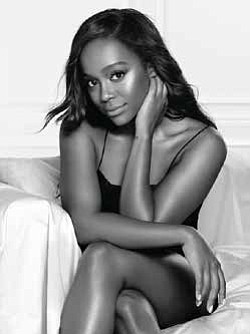 L'Oréal Paris Announces Aja Naomi King As Newest Celebrity Spokesperson
L'Oréal Paris, the #1 global beauty brand, announced actress Aja Naomi King as the brand's newest spokeswoman. Aja is one of Hollywood's top rising stars whose love of beauty was sparked at a young age by her mom.
Just as her body of work has evolved with impressive performances and
versatile roles across film and television, so has her passion for helping others
understand and value their worth.
The skilled actress and Yale graduate currently stars in the hit series "How to
Get Away with Murder."
In her newest role, Aja joins an esteemed roster of spokeswomen including Julianne Moore, Eva Longoria, Elle Fanning and Camila Cabello, among others, in representing the brand.
"Growing up, I watched my mom apply her makeup in the morning and wanted so badly to be part of that daily ritual with her. Seeing how much she enjoyed putting makeup on, including her go-to L'Oréal Paris Colour Riche
Lipcolour, inspired me to love makeup as much as she did," says Aja Naomi King. "Makeup became my armor growing up. It provided me with a sense of protection and gave me the power and confidence to face the world in the way I wanted. To now represent L'Oréal Paris is incredibly overwhelming.
I am so excited to help others find and believe in the beauty of who they are because everyone deserves to know their own worth."
"In welcoming Aja to the L'Oréal Paris family, we are thrilled to strengthen our diverse roster of spokeswomen and further connect with a younger
generation of consumers," says Tim Coolican, President, L'Oréal Paris USA.
"Aja has openly and powerfully shared her journey to overcoming feelings of self-doubt and as such, inspires others to embrace their own beauty and self-worth. She is incredibly talented, accomplished and most importantly, fully
understands and embraces our brand philosophy of 'Because You're Worth It'".
Aja will star in TV, print and digital advertising campaigns for the leading global beauty brand beginning in the United States in early 2018. Her first campaign will be for True Match Lumi Glow, a new collection of five products designed to create an effortless and luminous glow – Glotion Natural Glow Enhancer, Glow Nude Palette, Shimmerista Powder, Glow Amour Glow Boosting Drops and Bronze It Bronzer.
Following True Match Lumi Glow, Aja will be featured in campaigns for Hair, Skincare, as well as Cosmetics. Born in Los Angeles, Aja has been performing
in some capacity since the age of three and is one of Hollywood's most accomplished young stars. Most recently, she received critical acclaim for her role in the groundbreaking feature, "The Birth of a Nation."
Aja was nominated for a 2017 NAACP award in the category of "Outstanding Supporting Actress in a Motion Picture" for her performance, and the film won multiple awards at the 2016 Sundance Film Festival. Additionally, she received the "Shining Star" award at this year's Essence Black Women in Hollywood gala. Next, the breakout star will have leading roles in "The Upside" and "A Girl from
Mogadishu," both scheduled for release in 2018.