Illinois Politicians Address Chicago Gun Violence
1/10/2018, noon | Updated on 1/10/2018, noon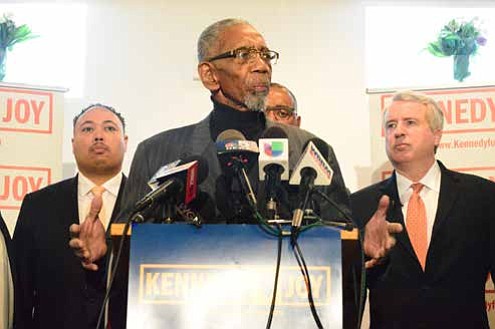 Illinois Politicians Address Chicago Gun Violence
By Christopher Shuttlesworth
In light of three homicides in the first two days of 2018, Democratic Candidate for Governor, Chris Kennedy and his Democratic running mate, Ra Joy, along with Congressman Danny K. Davis, Representative Bobby Rush, Cook County Commissioner Richard Boykin and Alderman Rick Munoz held a press conference addressing Chicago's gun violence, at Sunrise Baptist Church, 1101 S. Central Park Ave.
Chris Kennedy said too often Illinois and local elected officials get away with saying they've found a solution to violence when they've barely scratched the surface of the problem.
Kennedy explained that the city of Chicago's administration is using a selective attainment strategy, allowing violence to continue as long as it happens in certain neighborhoods.
"There is an "88 rule" where 80 percent of the violence occurs in just eight percent of the city," Kennedy said. "Now, [the city's administration] is cutting off resources to people of color, forcing them out of the city and economic development."
Community activist and Southside business-owner Nate Pendleton, whose 15-year old daughter, Hadiya Pendleton, was killed four years ago, said he has spoken to numerous politicians in Washington D.C. to figure out why better gun laws aren't being enforced, but only received non-implemented solutions.
"I've met a lot of parents who lost their kids and we all share the same look of despair and we're looking for someone to speak out," Pendleton said. "Kennedy has a passion to stand against the NRA who is fighting tirelessly to keep guns on our streets."
Democratic running mate, Ra Joy highlighted that in 2017, Chicago saw more murders than New York and Los Angeles combined and local community, North Lawndale, saw a 20 percent murder increase.
Joy continued to say that far too many of the children in Chicago are growing up in survival mode, dealing with the aftermaths of unbelievable violence and are being denied basic mental health resources. Illinois' School Code says at least one school social worker should be set to every 250 students, yet in Chicago Public Schools (CPS) there is only one school social worker for every 960 students.
"These staggering numbers don't tell the full story," Joy said. "What is impossible to measure is the human toll, physiological trauma of violence and the incomprehensible loss of a son, daughter, grandson or father. Physiological trauma, if untreated, can lead to more cycles of violence and Chicago's kids are living in a deadly cycle of unbelievable trauma and violence."
Congressman Danny Davis said Chicago, Cook County and the State of Illinois, rather than sticking their heads in the sand and saying there isn't much we can do, must attack gun violence head on.
"Chris Kennedy is determined to use the Governor's office to help Illinois understand that we can do something about the gun violence we are experiencing every day," Davis said. "Kennedy can have the platform designed to uplift humanity, deal with poverty and make sure resources are used effectively so young people know there is hope and possibility."
Representative Bobby Rush explained that Illinois needs to form an economic program that deals with the violence that mothers continuously face.
"There is an economic violence that's taking place along with disinvestment in local neighborhoods and until we get to the core of violence, we will never solve it," Rush said. There is nothing that disturbs the soul more in hearing a mother or sister scream after the doctor tells them their son or loved one didn't make it. But Kennedy can diminish this around the state of Illinois."