CHICAGO CHILDREN'S THEATRE'S MY WONDERFUL BIRTHDAY SUIT!
1/10/2018, noon | Updated on 1/10/2018, noon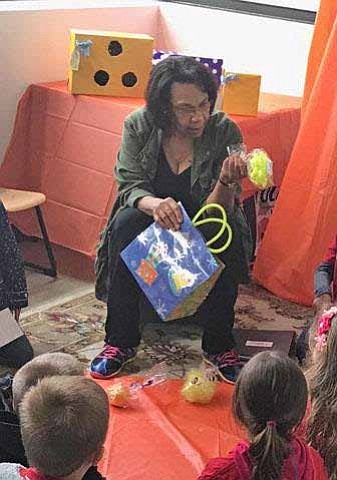 CHICAGO CHILDREN'S THEATRE'S MY WONDERFUL BIRTHDAY SUIT!
My Wonderful Birthday Suit!, Chicago Children's Theatre's highly entertaining, timely and important new play for young audiences, will captivate children with its festive birthday party atmosphere.
But this engaging world premiere by Gloria Bond Clunie, an award-winning Chicagoland playwright, director and educator, also promises to help children, parents and teachers speak honestly about diversity and encourage all ages to move from simply tolerating differences, to understanding, accepting and celebrating what makes everyone unique.
Ideal for ages 4 to 7, My Wonderful Birthday Suit! debuts January 16-February 18, 2018 at Chicago Children's Theatre, The Station, 100 S. Racine Avenue in Chicago's West Loop. Public performances are Saturday at 9:30 a.m., 11:30 a.m. and 3 p.m., and Sunday at 9:30 a.m. and 11:30 a.m. School matinees are Tuesday through Friday at 10 a.m.
Single tickets are $35 including fees. For subscriptions, single tickets and information on group rates, visit chicagochildrenstheatre.org or call Chicago Children's Theatre Guest Services, (872) 222-9555.
It's a magical birthday party - and you're invited!
Step inside an enchanted room in The Land Beyond The Rainbow, where Ooblahdee, Oblahdah and Shebobshebe are surrounded by birthday cards, colorful balloons, beautifully wrapped presents and the splendiferous Thinking Tree. But when hurtful words about skin color slip out, a birthday party among best friends becomes a charming story about how to appreciate outer beauty and celebrate the remarkable gifts inside each of us.
Music, puppets, surprises and the quiet wisdom of the Thinking Tree, where kids are gently inspired to contemplate their own words and actions, make My Wonderful Birthday Suit! a very special celebration. Hands-on pre- and post-show experiences help audiences explore outward appearances and inner gifts, and leave young children feeling like they are the very best gifts of all.
The idea for My Wonderful Birthday Suit was sparked by a conversation between Clunie and Chicago Children's Theatre Artistic Director Jacqueline Russell. The two wanted to create a new work for young audiences that celebrated diversity in a time in our country when even young children have unspoken questions or concerns.
They were also admirers of Chicago author Michael Tyler's popular children's book, The Skin You Live In. With Tyler's encouraging words and vibrant illustrations by David Lee Csicsko, The Skin You Live In is a visual delight, and a wonderful springboard for positive conversations with children about skin color and outward appearances.
Clunie's intention with My Wonderful Birthday Suit! is to create a work for the stage bursting with kindness and generosity. In the story, the surprise sharing of an amazing gift symbolizes one of the play's key themes: that because of the wonders on both the outside and the inside of us, we are all gifts to be treasured and celebrated.
"Gloria has an incredibly creative imagination, and years of experience as a wonderful educator of young minds," said Russell. "While crafted to be very entertaining and interactive for very young audiences, My Wonderful Birthday Suit! does confront issues of race and use of hurtful language in very frank terms. Our hope is that My Wonderful Birthday Suit! will convey important lessons about peace and unity, and help prepare our next generation of Chicago citizens for life in an incredibly rich and culturally diverse society."