Skills for Chicagoland's Future Launches Beyond the Diploma
1/3/2018, noon | Updated on 1/3/2018, noon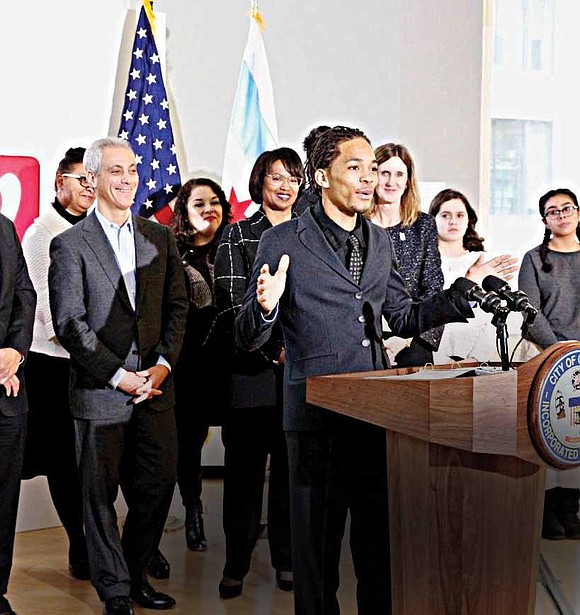 Skills for Chicagoland's Future Launches Beyond the Diploma
By Christopher Shuttlesworth
Mayor Rahm Emanuel recently joined Skills for Chicagoland's Future (Skills) at Walgreens Technology Office, to launch the initiative "Beyond the Diploma," a new demand-driven youth employment program that will connect unemployed and underemployed youth to career jobs and
educational opportunities.
Skills decided to create the "Beyond the Diploma," program after the organization conducted a six-month analysis in 2016 that incorporated input from youth, employers and community organizations, according to a
Skills press release.
Beyond the Diploma's program for high school graduates is part of a multi-phased approach to tackle youth unemployment from high school through post-college graduation.
"We believe in Chicago's youth and know that many just need a pathway to change the trajectory of their lives," said Marie Trzupek Lynch, Skills' president and founding Chief Executive Officer (CEO). "These employers that are first at the table are committed to making a difference and were looking for a conduit like Skills to make it happen."
Walgreens will serve as the lead employer for Beyond the Diploma program and bring in 25 youth during the first cohort in Spring 2018. Youth ages 18 to 24 can apply at scfjobs.com/pivot.
"We have been impressed with the enthusiasm candidates from Skills have brought to our stores, and we are excited to be part of the initiative that gives Chicago's youth an opportunity to succeed," said Kathleen Wilson-Thompson, Executive Vice President and Global Chief Human Resources Officer of Walgreens Boots Alliance, Inc.
Chicago youth will be hired full-time or part-time as Walgreens customer service associates, with career pathways to store management or corporate positions, according to a Skills press release. Walgreens will aid in tuition costs for all participating youth to pursue an associate's degree at Harold
Washington College.
"This unique partnership will offer Chicagoans steady incomes, a quality education, and upwardly-mobile career paths with leading employers, and is central to our vision of creating more earn and learn opportunities for our students moving forward," said City Colleges of Chicago Chancellor Juan
Salgado.
The Beyond the Diploma initiative has garnered support from a $700,000 grant from the Pritzker Traubert Foundation, a $500,000 grant from The Chicago Community Trust and additional funding from the Aspen Institute, The Osa Foundation, AT&T, the Mayer & Morris Kaplan Family
Foundation and an anonymous funder. For more information, visit https://www. skillsforchicagolandsfuture.com/.