Historic Decline In New HIV Diagnoses Fuels 'Getting To Zero' Campaign
1/3/2018, noon | Updated on 1/3/2018, noon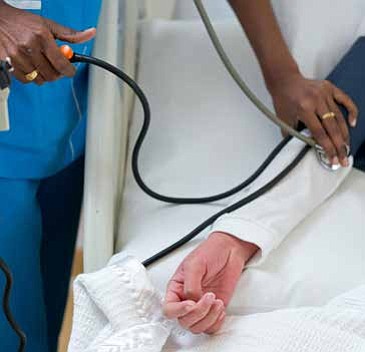 Historic Decline In New HIV Diagnoses Fuels 'Getting To Zero' Campaign
By: Katherine Newman
Recently, Mayor Rahm Emmanuel and the Chicago Department of Public Health(CDPH) announced that, after fifteen years of decline, new HIV diagnoses in Chicago hit a record low. The announcement is on track with Mayor Emmanuel's Getting to Zero campaign, announced
earlier in 2017, to eliminate all new diagnoses of HIV by 2027.
Human immunodeficiency virus, or HIV, is a virus that attacks the body's immune system,
specifically the CD4 cells, often called T cells. Over time, HIV can destroy so many of these
cells that the body can't fight off infections and disease.
This damage to the immune system makes it harder and harder for the body to fight off infections, according to hiv.gov.
The Chicago Center for HIV Elimination(CCHE), part of the University of Chicago, is also
working on the Getting to Zero campaign.
"I think it is possible to reach zero new infections by 2027," said Rebecca Eavou, Licensed Clinical Social Worker and Director of Prevention and CCHE. "It's going to be a lot of
work and require the collaboration of many groups across the city but we have
what we need to eliminate new infections."
In the HIV/STI Surveillance Report from the CDPH, released on Dec. 1, it shows that 839 residents were newly diagnosed with HIV in 2016, that is down from the 1,850 in 2001.
"Through its Getting to Zero campaign, Chicago has set concrete goals to end the HIV epidemic in the next decade and improve the quality of life for all residents," said Mayor Emanuel, in a press release from the Office of the Mayor.
"These record low numbers push us one step closer toward our goal of building an HIV-free generation in Chicago."
Doctors have found that daily preexposure prophylaxis (PrEP) reduces the risk of getting HIV from sex by more than 90%. Among people who inject drugs, it reduces the risk by more than 70%, according to the Centers for Disease Control and Prevention(CDC).
PrEp is when people at very high risk for HIV take HIV medicines daily to lower their chances of getting infected. PrEP can stop HIV from taking hold and spreading
throughout your body. It is highly effective for preventing HIV if used as prescribed,
according to the CDC.
"We think that PrEP is going to be key in keeping Chicagoans HIV negative," said Eavou. "But we also know that PrEP alone won't be enough, for us to get to HIV elimination we will need to build our support and care systems to ensure people, regardless of HIV status, have the services they need."
Getting to Zero could have a great effect on Chicago's south side where HIV rates are the
highest.
"If you look at an incidence or prevalence map of the City, you'll see that the South Side
has the highest rates. This indicates that those living on the South Side and those they love are impacted by HIV," said Eavou. "If we can achieve this goal we will see rates go
down on the South Side and see improved health outcomes.
While the CCHE has set a longer goal for HIV elimination, hoping to eliminate transmission by 2041, they are on board with the Getting to Zero campaign and believe with hard work and citywide collaboration it can be achieved by 2027.
"While we have these tools we have a lot of work figuring out how to actually implement these things in Chicago and across the nation. So yes, it is more than possible," said Eavou.