CPL Introduces Winter Learning Challenge: Enter for Engineering
1/3/2018, noon | Updated on 1/3/2018, noon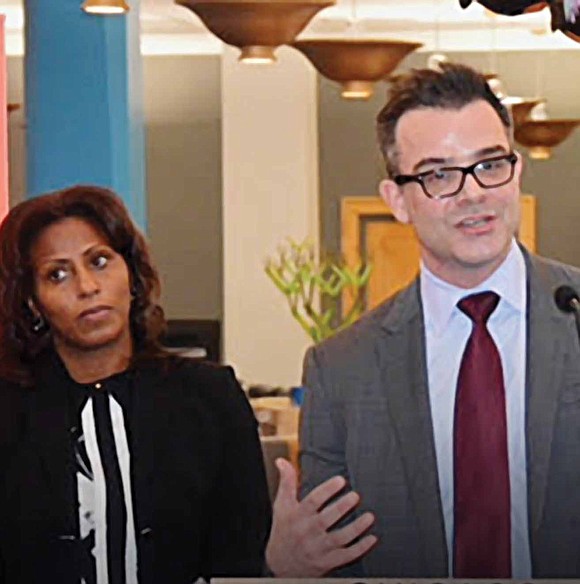 CPL Introduces Winter Learning Challenge: Enter for Engineering
By Christopher Shuttlesworth
Chicago Public Library Commissioner Brian Bannon and Chief
of Teaching and Learning at Chicago Public Schools LaTanya McDade recently held a press conference, at the Harold Washington Library, inside the Thomas Hughes Children's Library, where Talman Elementary students participated in the 2017-2018 Chicago Public Library's (CPL) Winter Learning Challenge: Enter for Engineering.
The Winter Learning Challenge: Enter for Engineering encourages students up to 14 years old to learn about engineering through a fun and engaging self-paced learning challenge, available on the Chicago Public Library's website, through Jan. 8, 2018.
"The kinds of activities you saw on display supports Science-Technology-
Engineering-Math (STEM) learning and programing for parents to work with
their children, not just at the library but to continue this approach at home," Commissioner Bannon said.
Suggested activities include reading a book, magazine or website
for 20 minutes a day for at least five days, discovering new information
about engineering by doing an activity and creating at least one story, a piece of art or completing a design challenge inspired by engineering, according to a CPL press release.
Bannon explained that the CPL Winter Learning Challenge: Enter for Engineering drew inspiration from CPL's Summer Learning Challenge,
which supports learning during the summer months.
"We know it's a big problem not only in our city but around the country, that children can lose three months of learning if not staying actively engaged in activities," he said. "We're taking winter to test new ways we can engage children in fun, learning ways at home."
LaTanya McDade, chief of teaching and learning at Chicago Public Schools (CPS), said CPS was excited to partner with CPL on the Winter Learning Challenge because it opens up quality learning opportunities for students to stay engaged during winter break.
"There is a vast body of research that shows students can lose some
of what they learn when they go on summer-winter breaks," McDade said.
"So, it's really critically important that programs like this exist for students."
Teens are also invited to join CPL's initiative "Express Yourself" during
this winter by participating in CPL's Teen Winter Challenge art competition
where teens aged 14 to 18 can submit a digital portfolio of at least four original pieces of work using skills he or she developed at any educational setting in 2017-18 and a 250 word artist's statement, according to a CPL press release.
"Art is a way for students to express themselves," McDade said. "Through the teens challenge, students can express themselves through the visual levels of art with the opportunities to win prizes and scholarships."
Prizes include scholarships or gift cards to Blick Art Materials or B&H Photo Video and the opportunity to see their artwork featured on CPL's website. All Chicago high school students are eligible to submit a portfolio to teenservices@chipublib.org with the subject line "Teen Winter Challenge 2017-18: (Teen's Name)."
For more information, visit www.chipublib.org/winter.