Chicago Gears Up for Annual Point-In-Time Homeless Count
1/3/2018, noon | Updated on 1/3/2018, noon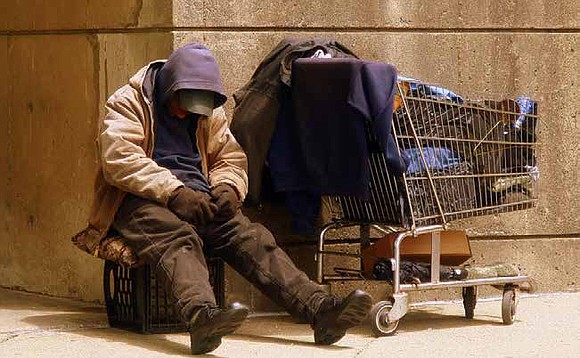 Chicago Gears Up for Annual Point-In-Time Homeless Count
By: Katherine Newman
The annual Point-in-Time Homeless Count will take place on Jan. 25. Chicago residents are encouraged to volunteer to walk different areas of
the city at night to engage homeless people who are not in a shelter. This count is conducted todetermine how many homeless people are living in
the 50 Wards of Chicago.
The Point-In-Time Homeless Count provides the Chicago Department of Family and Support Services (DFSS) with a "snapshot" of Chicago's homeless population. The data gathered on homeless people in Chicago serves as a basis for federal funding, for service and resource planning,
and to raise public awareness about homelessness.
St. Martin de Porres House of Hope (SMDPHH) is one of few homeless shelters in Woodlawn and as of today doesn't accept anyone who isn't coming from a treatment facility.
St. Martin de Porres House of Hope (SMDPHH) was founded in 1983 by Sister Connie and Sister Therese O'Sullivan to help homeless women and children. Since then they have refocused their mission to specifically work with homeless substance abusers coming out of treatment.
"We do not take women off the street, said Yaisa Hagood, Executive Director of SMDPHH. "I do believe there is a need for [more] shelters in
the area. We receive calls daily from people seeking shelter but cannot accept them because they are not in treatment."
According to the City of Chicago 2016 Homeless Point-in-Time Count & Survey Report, 42 homeless people were counted to be living in the third, fourth, and 20th wards, which include Hyde Park, Kenwood, Woodlawn, and Bronzeville.
That is 5.3 percent of the total homeless population reported in the count.
On the street, teams search public spaces and streets, parks, viaducts, CTA lines, and any other public space not meant for human occupancy to
try and get an accurate count. Individuals that are found to be homeless are interviewed to collect more specific data.
Anyone over the age of 18 is qualified to volunteer and there will be a brief training provided on the night of the count. Volunteers should wear
warm clothing and consider bringing a clipboard, flashlight, and writing utensils to make it easier collect accurate information about the people being interviewed. For safety reasons, it is advisable to leave money, food or other items to pass out, and all other valuables at home, according to DFSS.
Volunteers will ask the homeless people they meet about their background, their age, race, ethnicity, gender identity, if they are veterans, where they lived before they were homeless, among many other questions that will be used to develop a clear picture of the homeless population in Chicago.
Because the event is happening through the night, safety is a major priority. Volunteers work in teams of three or four and are instructed not to
separate from their teams. Volunteer teams should not enter abandoned buildings, or non-public spaces and police are notified that volunteers will be out engaging the homeless population that night, according to an informational release from the DFSS.
For more information visit www.cityofchicago. org/fss. To volunteer register at www.surveymonkey. com/r/2018count