Six of Eight Candidates for Third District Commissioner Speak At Forum
2/28/2018, noon | Updated on 2/28/2018, noon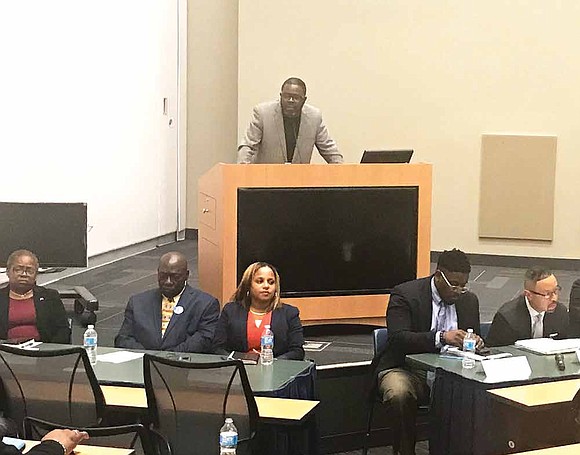 Six of Eight Candidates for Third District Commissioner Speak At Forum
By: Katherine Newman
Six of the eight candidates running for Cook County Commissioner of the third district came together at a recent public forum where they answered questions about the position and how they would use the seat to make a difference.
Present Candidates were Patricia Horton, Horace Washington Howard, Charise Williams, Joshua Gray, Bill Lowry, and Steve Wolfe.
Candidates Erick Nickerson and George Blakemore, the only Republican running, were not in attendance.
A commonality that all of the candidates spoke about was encountering people during their campaigning who weren't exactly sure what a Commissioner does in Cook County.
Maze Jackson from WVON Radio hosted the event and made his first order of business to clearly state the role of a Cook County Commissioner so there would be no confusion.
"The people here that are running for County Board Commissioners will be representing you as it relates to the county jail, the county highway system, and the Cook County health and hospital system. there are a lot of peripheral issues but those are their primary responsibilities," said Jackson.
Throughout the night, candidates were asked questions about their tactical plan for the office and their opinions on controversial topics like the return of the soda tax, which all six candidates said they were against.
The big question of the night centered around each candidate explaining their top legislative priorities as a Cook County Commissioner.
Gray, Horton, and Wolfe all stated that one of their major focuses would be on the Assessors office and to get to the bottom of peoples' concerns about property taxes.
"The property assessment system, what it does right now is it causes our budgets to be balanced on the backs of black folks, poor people, working families and that's just not right. So, what I'm going to call for is a freeze on taxes until we get that fixed and it shouldn't be hard to do," said Wolfe.
Gray said nothing about freezing taxes but did say that he would force the Assessors office to reveal their practices.
"I think the public has called for the Assessor to give us the formula to see how our taxes are formulated. Right now, we know there is an unfair
bias. The county board can vote to have them release that so we are a little
bit more informed as to why the Assessor is charging our property like that," said Gray.
Along with talking about tax reform, Horton also harped on economic development as one of her initiatives, if elected.
"When I get up and I want to go to the store, I want to be able to go to the store in my community. I want to be able to go and make sure that my money is spent in my own community. So, I will make sure that we have efficient economic development," said Horton.
With that economic developments comes a need for checks and balances. Williams and Gray both spoke about establishing equity as one of their first acts.