MGA Entertainment Celebrates Toy of the Year Award with a Slew of New L.O.L. Surprise!™ Dolls, Debuts First L.O.L. Surprise!™ Boys
2/28/2018, noon | Updated on 2/28/2018, noon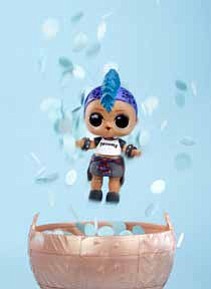 MGA Entertainment Celebrates Toy of the Year Award with a Slew of New L.O.L. Surprise!™ Dolls, Debuts First L.O.L. Surprise!™ Boys
AN NUYS, Calif.-- Adding fuel to the phenomenon with a Toy of the Year
(TOTY) Award and the No. 1 toy of 2017 to celebrate, MGA Entertainment, Inc.
(MGAE), one of the world's leading privately held toy and entertainment
companies, announced at New York Toy Fair that L.O.L. Surprise!™
is adding brothers to the family with the introduction of Punk Boi and Lil Punk Boi.
The company also revealed a line-up of new products from its other popular brands including Little Tikes®, Project Mc²™, Num Noms™, BABY Born®, and Crate Creatures Surprise!™, as well as the launch of Moj
Moj™ – a new collectible brand.
Winner of the prestigious Toy of the Year Award (TOTY) from
The Toy Association™, Inc., L.O.L. Surprise!™ has taken the world's toy market by storm since its launch in 2016 with only digital marketing.
According to The NPD Group, the L.O.L. Surprise!™ Doll Assortment
was the #1 Toy of 2017 in the U.S., U.K., Canada and Benelux. L.O.L.
Surprise!™ also delivered tremendous results in other countries worldwide, with success in every market launched. The strength of the L.O.L. Surprise!™ sales results also helped lead the overall growth of the dolls super category globally*.