Residents Receive Free Health Screenings at Community Wellness Day
2/21/2018, 4:11 p.m. | Updated on 2/21/2018, 4:11 p.m.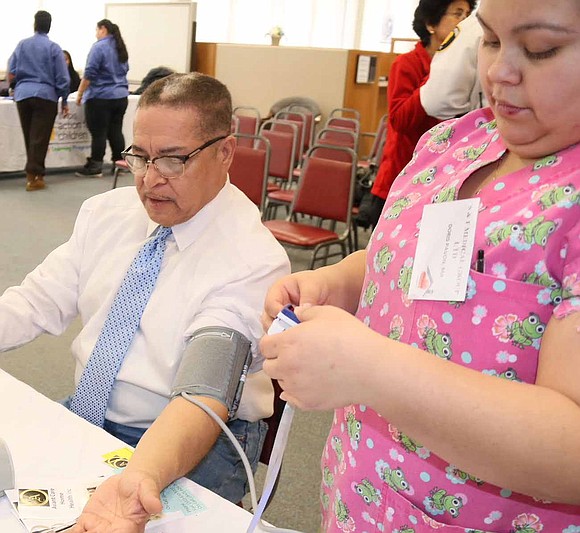 Residents Receive Free Health briefly Screenings at Community Wellness Day
By: Katherine Newman
The Village of Dolton recently hosted a Community Wellness Day to provide residents with free health screenings for high blood pressure and diabetes, one-on-one pharmacy consultations, and wellness activities.
This is the beginning of many free health events in Dolton, according to the Mayor of the Village of Dolton, Riley Rogers.
"We have an aging population in the City of Dolton and what we want to do is assist these residents, who in some cases can't afford healthcare, through trying to lead them in the right direction in regards to making sure they get regular check-ups. So, today we thought we could start the year off with the wellness program and we want to continue this throughout the year and future years to
come," said Rogers.
There were several vendors who set up tables at Community Wellness Day to provide information about free and affordable healthcare for all ages, not just seniors.
"We reached out to a number of vendors that said they had no problem with participating. This is just a smaller fashion of what we are planning to do in the future. We are looking for those vendors that will provide these services at no cost to our residents," said Rogers.
ST Medical Group was one of the vendors at Community Wellness Day. Jadwiga Stoklosa ran the table where attendees could sit and have their health questions answered by medical professionals and participate in an overall wellness screening.
"If you come to our table and we screen you and the results come right away. We check blood pressure, sugar, cholesterol, and we check mental status," said Stoklosa. "Then we make recommendations. We send some people home, sometimes they need a home health agency, sometimes they need to go to the
hospital, sometimes we will tell them to go see a primary care physician once a month."
Aside from the free health screenings, Community Wellness Day offered residents the chance to get out of the house and socialize during the cold winter months. Earlene Branch, a resident of Dolton, believes the opportunity to get out of the house and socialize is just as important as the free health screenings.
"I am so thankful that they are doing this because I see so many people that are obese and people who sit around in their house all the time and don't go out to mingle with others and that leads to other illnesses, so I think this is a very good health event and I think they should do this more," said Branch.
Mayor Rogers was walking around at the event because he believes in the importance of keeping the community healthy, but also values engaging with his constituents. "it's important to maintain a dialogue with our residents," he said.
For more information about events in Dolton visit www. vodolton.org.