Minority Contractor will Contribute to Red Line Extension
Black History Focus
2/21/2018, 1:31 p.m. | Updated on 2/21/2018, 1:31 p.m.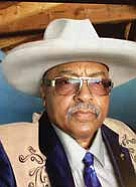 Minority Contractor will Contribute to Red Line Extension
By Christopher Shuttlesworth
Skidmore, Owings & Merrill, under the direction of Contractor Myron Goldsmith, completed the Chicago Dan Ryan Line in 1969. But due to current track conditions, Red Line riders are now experiencing longer travel times, more-crowded trains and less-reliable service, which has led the city to begin plans of reconstructing and extending the red line, according to the Chicago Transit Authority (CTA).
"It was 43 years ago that the CTA unveiled the newest line the (Dan Ryan)," said Terry Peterson, CTA chairman. "A lot has happened in Chicago since then and the South Red Line has become one of the busiest (L)
systems carrying more than 80,000 people on a week day."
While Black contractors didn't participate in building the Dan Ryan (Red) Line during the Civil Rights Movement, today, more Black Contractors like Garth Construction Services Corp., are Helping with the $2.3 billion dollar expansion of the Red Line.
Steven A. Garth Sr., chief executive officer (CEO) of Garth Construction Services Corp., a minority (MBE) family-owned operating company, and co-founder of Black Contractors United, said he is excited to be contributing to the work on the Red Line extension.
"I'm more than enthused due to the fact that we've worked on the Blue line, Green line and Brown line," Garth Sr., said. "The Red Line is in our neighborhood and I'm happy."
Garth Sr., graduated from Olive Harvey College in 1981 with two associate degrees in Construction Management and Architectural and Design. He also minored in Building design, Blueprint Reading, Estimating Business Law and Accounting.
In the last 40 years, Garth Sr., has contributed to the Skyline of Chicago, "Brick by Brick," including the Comiskey Park, McCormick Place II, III and IV, The Harold Washington Library, the Leo Burnett Building, AT&T Corporate Building, O'Hare International Airport, Millennium Park and many Chicago Public Schools.
As the winner of 2016 Outstanding Minority Contractor of the Year, Garth Sr., advises all young contractors to attend a college to obtain trade training.
"They need to go to school to learn how to read blue print, estimate and learn the overall trade," he said.
The proposed 5.3-mile Red line extension includes four new stations near 103rd Street, 111th Street, Michigan Avenue and 130th Street, according to a city of chicago press release. The project is expected to create an estimated 6,200 jobs including bus and parking facilities at the new stations.