CTA Hosts 250 Small and Minority-Owned Businesses at Red Purple Modernization Project Outreach Event
2/21/2018, 1:51 p.m. | Updated on 2/21/2018, 1:51 p.m.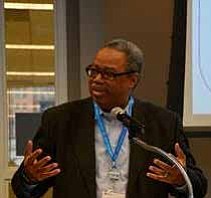 CTA Hosts 250 Small and Minority-Owned Businesses at Red Purple Modernization Project Outreach Event
In preparation for the Red Purple Modernization (RPM) Project—one of the
largest capital projects in the agency's history, the Chicago Transit Authority (CTA) recently hosted "Meet the Big Three," an outreach event held for small
businesses and Disadvantaged Business Enterprises (DBEs) seeking to work on Phase One of RPM.
The meet-and-greet style event was held Jan. 25, 2018 at CTA headquarters in Chicago and hosted more than 300 individuals, including more than 250 business owners and representatives.
Participants received an opportunity to meet with and learn more
about prospective partnership opportunities with RPM's potential prime contractors.
"We are committed to helping DBEs compete for contracting opportunities at CTA and encourage small businesses interested in working with us to remain engaged as we move forward with RPM and other opportunities," said CTA President Dorval R. Carter, Jr. "We are continuing
to expand the programs and services offered by our Diversity Programs Department in an effort to strengthen relationships between potential prime contractors and thesmall business and DBE community."
The "Meet the Big Three" event included representatives from each of the three prime contractors, including Walsh Fluor Design-Build Team, Chicago Rail Constructors and Kiewit Infrastructure Company. Each firm shared information about their companies and small business initiatives.
The event also provided DBEs the chance to network with utility companies involved in RPM utility relocation, assist agencies, CTA personnel and other small and minority owned business owners, as well as to learn more about how to pursue contracting opportunities with the CTA.
RPM (Phase One) is a $2.1 billion project that will rebuild four of the oldest Red Line stations – Lawrence, Argyle, Berwyn and Bryn Mawr - as
well as more than a mile of adjacent track structure. The project will also create a rail bypass just north of Belmont station for northbound Brown Line trains that will modernize a 100-year old
rail junction where Red, Purple and Brown Line trains
currently intersect.
This event is just the first of many upcoming outreach
events that CTA's Diversity Programs Department will host
as RPM contracting opportunities become available. CTA
hosts dozens of outreach events each year, provides one-onone
consultations for firms seeking to be certified as DBEs
and receives feedback and ideas from the CTA's DBE Advisory
Committee on ways to strengthen the program and increase
outreach.
Recently, CTA announced its new, quarterly business series
"Driving Small Businesses the Distance." This is a three-course
program for small businesses to learn how to become certified as a
Disadvantaged Business Enterprise (DBE) and instruction on how
to do business with CTA.
For more information about diversity and small business
initiatives, DBEs are encouraged to contact CTA's Diversity Programs
Department at (312) 681-2600 or email diversity@transitchicago.
com. They can also visit www.transitchicago.com/dbe/