Congressman Rush Calls for Heart Disease Awareness
2/21/2018, 1:22 p.m. | Updated on 2/21/2018, 1:25 p.m.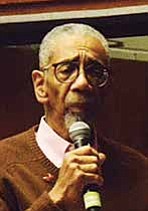 Congressman Rush Calls for Heart Disease Awareness
By Christopher Shuttlesworth
In honor of Black Women's Heart Health Awareness Week, Congressman Bobby Rush recently held a conference entitled, "A Heart to Heart Conversation: African-American Women & Heart Health," led by Pam Morris-Walton, WVON Radio Host and heart disease survivor at the Illinois Institute of Technology.
Heart disease is the number one killer in the United States, according to CloseTheGap. A Black woman's chance of getting heart disease is 49 percent and for Black men, it's 44 percent.
Rush. who recently lost his 67 year-old wife, Carolyn, to congestive heart failure said, "I missed quite a few days from Washington D.C. because my primary care was to be at my wife's side," he said. "But it became a real struggle to be with her and see her deteriorating with also having to help her in ways the doctors told me to."
He said one thing he's learned from 36 years of marriage is the important lesson of devotion, which Rush says is the highest form of love…higher than sacrifice.
"With sacrifice, you are in love and you give up something such as an ego or personality," he said. "But when you're devoted, you just do it just because and you don't even think about it because your personality isn't in it at all."
Pam Morris, WVON Radio Host, explained that like Carolyn Rush and many other African American women, she too was diagnosed with heart disease on Feb. 23, 2016.
"I was heading to visit my mother in West Virginia and my primary doctor wanted me to come in to check my lungs due to recent breathing
problems," Morris said. As a result of that doctor's visit Morris said she was diagnosed with congestive heart failure.
She said she was placed on medicine for four months, but received no positive results, only another diagnosis of advanced congestive heart
failure.
"Several days later, at the University of Chicago Medicine Hospital, a wonderful doctor looked me in my face and asked, 'Do you want to live and if you want to live then you need a new heart.'"
Later, Morris said she was admitted into the hospital and after 27 days, received a new heart from a donor. Morris said she's a, "living, walking miracle with a heart that has no infection or injection."
Rush said he supports all initiatives surrounding heart disease and is fully devoted to helping African American women to understand there is a lurking killer that haunts them daily and added the participation of African American women working against heart disease is currently inadequate.
"It's a reality that's not spoken about," Rush said. "We have to tell our mothers and daughters, sisters and aunts and girlfriends that this is a very threatening condition and we can't be silent. I've introduced legislation to create a public awareness week around heart disease for African American women where we can participate in a walk in 2018 to bring a higher
consciousness to the African American community."