Chicago Black Women in Tech host Workplace Workshop
2/21/2018, 2:52 p.m. | Updated on 2/21/2018, 2:52 p.m.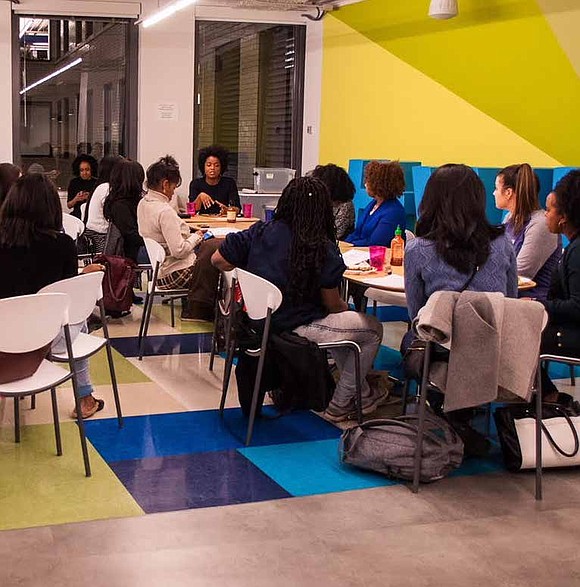 Chicago Black Women in Tech host Workplace Workshop
By Christopher Shuttlesworth
Chicago Black Women in Tech in collaboration with The Impact Alliance (TIA) will present a workshop entitled "Am I My Sister's Keeper in the Workplace," which will explore the positive and negative interactions between professional women on Mar.7 at Northwestern School of Law (375 E. Chicago Ave, Room RB 140).
Carla M. Kupe-Arion, founder and president of The Impact Alliance, a social justice and inclusion-focused organization, said the workshop was designed to provide a platform for professional women to explore different dynamics between women in the workplace and certain challenges that may exist.
"Often times, as professional women we deal with each other in a not so nice way," Kupe-Arion said. "So, sometimes there are challenges between a female supervisor and a subordinate or individuals of the same seniority level."
She said, regardless of where you work, whether you're at an entry level, mid-level or senior level, the question should be what can women do to foster a more supportive, civil and professional environment?
"I think it's no secret that being a woman in the workplace anywhere in the world is tough to begin with because we're still fighting for things like equity when it comes to salary," Kupe-Arion said. "We're still living in a society where a lot of families' issues falls on women more than men."
She continued to say that not only do women operate under systems that are crafted and led by men with its own sets of issues, they also have to deal with other women wanting to undercut each other to keep their jobs.
"We want to explore the different factors that create a space where women have an uphill battle to begin with and what can we put in place, regardless of how many women or the different generational gaps, races or sexual orientation differences, to help advance and support everyone?"
Kupe-Arion said as a woman who has worked for more than 10 years, she knows it's hard to balance and understand your personal brand while balancing the company's workload.
"I don't care if you work in the private sector or public sector, wherever human beings are involved they are [problems]," she said.
"Some people are like we're grownups so we will get along and get our projects done. But sometimes there is favoritism, nepotism or hostile environments that young professionals may not think they will have to deal with at work."
Kupe-Arion advises that young women in the workplace find a mentor who can explain the lay of the land; work politics and issues and how they can move forward and advance.
"You need a guide and someone who is trustworthy and far enough up the ladder who can guide you through it," she said. "Obviously, everyone wants to rise up and shine on their own account and ability but everything is easier with an ally or mentor with industry experience."
The keynote speaker will be renowned Clinical and Research Psychologist Paula Joan Caplan, who is an activist, social justice and human rights advocate, nonfiction writer, award-winning playwright, screenwriter, actor, and director.
"We want everyone to walk away with a set of practices that we can all take back to our work environment and see how we can advance and empower everyone without having a challenging dynamic," Kupe-Arion said.
The Event is now FREE, please RSVP visit http://cbwit.com/SISTERSATWORK/.