Be a Buddy, Not a Bully
2/21/2018, 4:01 p.m. | Updated on 2/21/2018, 4:01 p.m.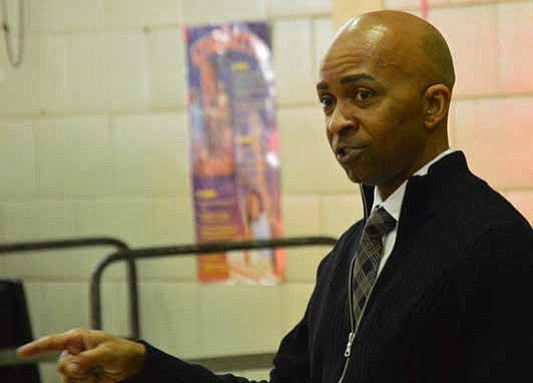 Be a Buddy, Not a Bully
By Christopher Shuttlesworth
In honor of Black History Month, The Black McDonald's Operators Association (BMOA) recently hosted its "Tolerance is Greater" tour, an in-school live performance designed to teach students how to spread love, show tolerance and decrease bullying within their schools and communities. The event was held at Charles H. Wacker Elementary located on 9746 S. Morgan.
Through the 'Be a Buddy, Not a Bully' performance, third through eighth graders learned about conflict resolution and anti bullying techniques to help improve their relationships with their families and peers.
During the performance, play-instructors and demonstrated ways students can decrease physical, verbal and cyber bullying.
"The message, 'Be a Buddy, Not a Bully,' speaks for itself, but we try to give tangible solution to a society-wide issue," said Calvin King, executive director of the Free Lunch Academy. "I think it is very important to know yourself, identify and accept who you are and then you can pass the respect over to other people and form a mutual respect."
King said growing up he played several roles whether it was engaging in bullying behavior; being targeted by bullies or being a bystander of bullying behavior within the community.
"Once I had children, I realized that it's not acceptable to be a bystander of bullying," he said. "Everyone is impacted by bullying either directly or indirectly so it's all of our jobs to create solutions to address and hopefully eradicate it."
Ekaterini Panagakis, principal of Charles H. Wacker Elementary, said one thing the staff tries to instill within the students is the importance of loving and respecting themselves and others.
"When you walk out this door it's time for you to grow and add more seeds and flowers," Panagakis said. "You are the catalyst and the fire-starter. So, your job is to take this message and think about ways you can be more kind; how you can be a good leader or friend and then come back and practice it."
Vincent Hale member of the Black McDonald's Operators Associations, said the association's vision is based upon empowering minds and building leaders and this is one of the ways it can continue to give back to the community.
"It's great to see that we can have such a positive impact on the kids at such a young age," Taylor said.
King said he has participated in the "Be a Buddy, Not a Bully" play in more than 150 Chicago Public Schools (CPS) for the last three years. The Tolerance is Greater Tour plans to visit an additional 19 schools in Chicago and Northwest Indiana throughout February. For more information, visit BMOAChicagoland.org and FreeLunchAcademy.com.