Nicholas Smith Sworn in as New State Representative
2/14/2018, noon | Updated on 2/14/2018, noon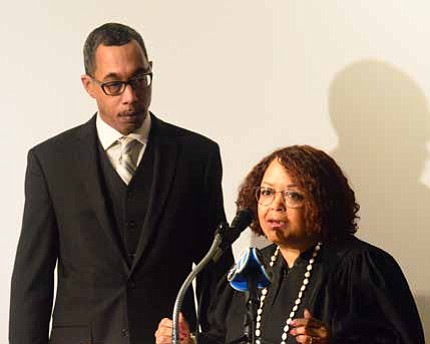 Nicholas Smith Sworn in as New State Representative
By Christopher Shuttlesworth
Nicholas Smith was recently sworn in, by Judge Freddrenna Lyle, as Illinois State Representative of the 34th District at the Pullman National Monument Site Visitor Center.
Previously, Smith served as the Ninth Ward Streets and Sanitation Superintendent and as the Former President of the Roseland Heights Community Association, according to www. sixthward.us.
"I can't think of a better person to take this position than Smith because he is a public servant and you want people who represent you to be servants with servant hearts," Judge Lyle said.
"Plus, Smith lives in the community so if you see him walking down the street, feel free to check him to keep him focused and well-grounded."
After being sworn in as the new State Rep., Smith acknowledged all of his colleagues and friends who have continued to support his efforts in the community.
"This job is not just representing the people in my community of the 34th District but the decisions we make in Springfield, Illinois effect the entire state," Smith said. "So, as I look around the room at co-workers, family and friends, I know this is why we do this."
He continued to share a story about when he served with Alderman Anthony Beale. A community resident called the office to ask if Mayor Rahm Emanuel was Beale's boss. Smith replied "No, you are."
"The voters are the boss," Smith said. "If you don't like what's going on then every two or four years you have the opportunity to change it. So, spread the word to your neighbors, family and friends about the importance of voting."
He said if more people would have voted in the previous election, the State of Illinois and Chicago would not be in the financial situation it's in today.
"The mess that's going on in Springfield right now is because of people's lack of voting," Smith said. "If they voted correctly, we wouldn't be in this mess. But I'm going to join this fight in Springfield to defend you, but we have a Mar. 20 Primary Electing coming and I want all of you to be at the polls because the only way
we can make change is by voting."
As Smith was being sworn in, Judge Lyle told him that a great burden is being placed on his shoulders with much responsibility.
"I want you to understand that you represent those aspirations of people that have gone on before," Lyle told Smith. "Your ancestors could never have dreamed of this and with this burden comes great responsibility to do great things."