New Housing Development Designed For Artists
2/14/2018, noon | Updated on 2/14/2018, noon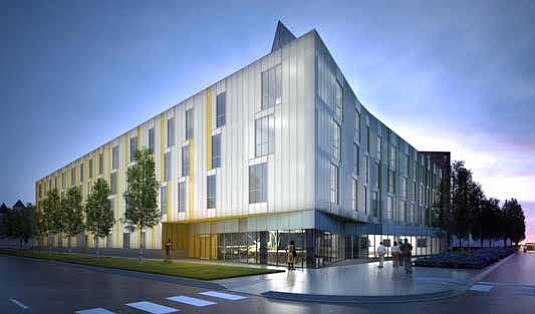 New Housing Development Designed For Artists
By: Katherine Newman
A groundbreaking ceremony was held recently in Washington Park to celebrate the
beginning of construction on a new 58-unit mixed-income housing development known as the KLEO Art Residences.
The project is located at the corner of South Michigan Ave. and Garfield Blvd. and
aims to house South Side artists and their families.
Torrey Barrett, founder of KLEO Community Center, worked with developers to design
the new Art Residences after working with the community and realizing that there were several artists coming to the neighborhood, to work and socialize, who didn't live in
the community.
"Artists are coming to the neighborhood and spending money in the neighborhood and doing programming in the neighborhood, but they don't actually live in the neighborhood. We saw a need to create some housing that would allow them to live in the neighborhood that they work and spend money in," said Barrett.
The KLEO Community Center works with a mission of eradicating violence by bringing
opportunities, according to Barrett. They do this mostly by targeting the youth population, ages 16 through 24, with after-school programs, family fun days, open mic
nights, GED prep classes, and resume writing classes.
Through his work at the community center, Barrett saw the positive effect art could have on the community.
"If you come to the KLEO Center and participate in an art project and now the instructor is your neighbor, it creates more of a bond. Our goal for providing housing in the neighborhood was to further develop the relationships that are currently being made
through the programming at the KLEO Center," said Barrett.
In addition to housing units, the building will provide gallery and studio space for artists. The hallways and community spaces will all be available for artists to
display their work, according to Barrett.
While the idea is to provide affordable housing for artists, all are welcome to apply for a unit in the building upon its completion in 2019. There is no age, gender, or career requirement to be eligible for occupancy, according to Barrett.