GAGDC Honors Local Senior Citizens with Breakfast
2/14/2018, noon | Updated on 2/14/2018, noon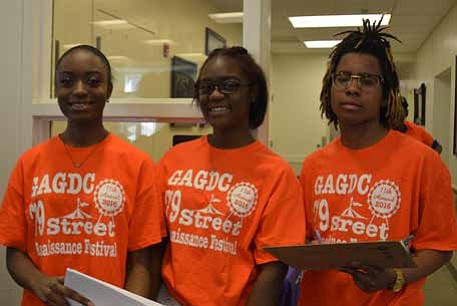 GAGDC Honors Local Senior Citizens with Breakfast
By Christopher Shuttlesworth
The Greater Auburn Gresham Development Corporation (GAGDC) is planning to host a Breakfast and Blues event for seniors on Feb. 24 from 9:30 a.m. to 12:30 p.m., at Namoi & Sylvester Smith Senior Living, 8031 S. Halsted.
Linda Johnson, a representative of GAGDC, said the organization has conducted the senior event twice a year since 2004 at the original space, the Thurgood Marshall Library. A live Blues band will kick off the celebration with Joey Dee and the Starliters.
"We get up to 200 seniors," said Johnson adding, "This is our opportunity to honor our seniors, not just from Auburn-Gresham, but all across Chicago and the suburbs."
She continued to say that seniors are important to the world because they've paved the way for younger generations. Seniors in the Auburn-Gresham community laid the foundation for families, schools and businesses, she said.
As an inter-generational event, volunteers will include Chicago Cares and students from Simeon Career Academy, Leo High School and more local schools.
"We want to make sure our students learn the aspect of respect," Johnson said. "I know we may not see a lot of this on the street, so as our students see us adults humble ourselves and serve, we're hoping we can teach them strength."
She highlighted that the Auburn-Gresham community honors the community with African Adinkra symbols' banners, which are visual symbols,
originally created by the Akan of Ghana that represent concepts or aphorisms.
"We integrate the Adinkra symbols' meanings into things we do within the organization," Johnson said. "In the African tradition, our seniors are our elders and through them we get enlightenment, knowledge and wisdom. So, we as adults want to teach that to our students and pass the baton."
GAGDC will close out the Breakfast and Blues event with a February funding raising campaign entitled, "GAGDC Give A Heart For Our Seniors," to
assist with programs and services offered for seniors.
The campaign is designed to promote monthly giving and building on GAGDC's love for community seniors. Chicagoans can support the campaign by donating at http://www.gagdc.org/donate.html.
The Breakfast and Blues event is being sponsored by Red Across, AARP Foundation and Golden Gate Funeral Home.