South Suburban Village Adjusts To Changing Economy
2/7/2018, noon | Updated on 2/7/2018, noon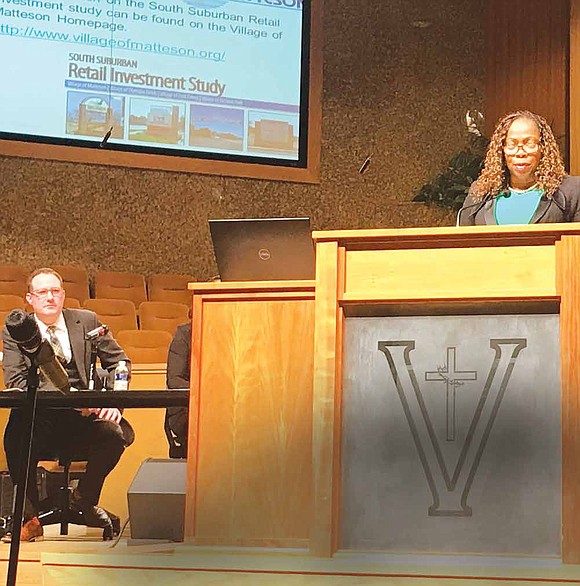 South Suburban Village briefly Adjusts To Changing Economy
By: Katherine Newman
The Mayor of the Village of Matteson, Sheila Chalmers-Currin, recently spoke at Victory Apostolic Church to give citizens an insight into her plan to feed the economy in Matteson. Members from the Economic Development team for the Village of Matteson spoke about the specifics of their efforts and plans to grow the community and attract more businesses.
"This is a great opportunity to share what we have in our focus for the Village and the Southland region. I've lived here for 35 years and I've seen the village grow from 10,000 to over 20,000. We've had some
positive events and we have had some challenges," said Chalmers-Currin.
One major accomplishment, that has been in the works for over two years, is the recent announcement of Pete's Fresh Market coming to occupy the vacant building left by an old Dominick's grocery store.
Since the Dominick's closed, the community has been lacking a full line grocery store, according to Ben Wilson, economic development director.
"Pete's Fresh Market will be fully redeveloping the store including facade improvements, roof, coolers, everything to make it a brand new store and it will offer an opportunity for shopping that we haven't seen
in some time," said Wilson.
Another major opportunity for redevelopment lies on the land that used to be occupied by the Lincoln Mall. The mall was a "derelict structure" and had several code violations relating to health, safety, and
building codes, according to Wilson.
Another problem arose when a person from Cleveland broke into the foreclosed structure and took several photos and posted them on the internet. After that, it became a public safety issue with several arrests
being made every weekend for people attempting to enter the building.
"It was one of these things where it didn't happen, and then once it did, it opened the floodgates. With the help of our receiver, we were able to tear down that structure. We are now working on moving forward on that sight for mixed-use development," said Wilson.
An encouraging message from Lavern Murphy, deputy director of economic development, brought the talk full circle.
"Unfortunately in the world of economic development, you gain and you lose," said Murphy.
"We cannot allow the shift in retail to define Matteson as a declining community. We are still a beautiful community, we have gorgeous homes, we have public safety that's keeping the community looking nice, our water is safe, we have good schools, we have a board that is cohesive and focused on forward-thinking, and last but not least, we have great residents."
Mayor Chalmers-Currin has only been in office since May and during that time she has been working to unify the community and speaks with great confidence about her ability to grow the Village of Matteson.
For more information on the Village of Matteson and the economic development plan visit villageofmatteson.org.