Martin's International Announces Chicago Music Awards Nominees
2/7/2018, noon | Updated on 2/7/2018, noon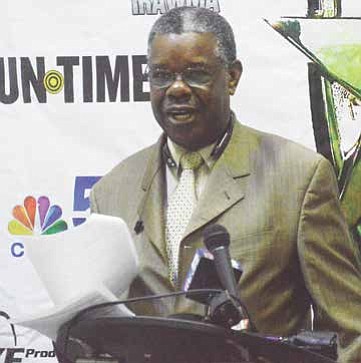 Martin's International Announces Chicago Music Awards Nominees
By Christopher Shuttlesworth
Martin's International, a non-profit organization, recently held a press conference in honor of the 37th Annual Chicago Music Awards and announced nominees for the upcoming awards event. The press conference was held at 14 Parish Restaurant located on 2333 S. Michigan Ave.
Each year, the Chicago Music Awards pays tribute to leaders representing Chicago's diverse music industry. The event also celebrates the city's musical heritage.
The best of 2018 entertainers in over 35 categories from Pop, Hip Hop/Rap, Reggae, Blues, Jazz, Rock, Classical, Country/Western, Gospel, EDM and Latin was announced during the press conference.
"We like to share with community residents who are the nominees of the Chicago Music Awards every year so they can begin creating a conversation about the event," said A.C. McLean, representative of ACM PR, a global public relations and communications firm.
During the press conference, Mama Curtis, researcher of the Chicago Music Awards Nominees said, "It was an honor to be celebrating with each [person]," and she announced the nominees for Best Gospel Entertainer.
They included: DJ McKenzie, Glenn Johnson and the Voice of Inner Peace, Gods Posse and New Direction.
Nominees for Best Country Western Entertainer included: Robbie Fulks and the Suburban Cowboys. Best Hip Hop/Rap Entertainer nominees were G Herbo, Sir the Baptist, Twist and Vic Minsa.
The Chicago Music Awards will take place on Mar. 18, 2018 at the Logan Center for the Arts at the University of Chicago located on 905 E. 60th St.
The general public is invited to vote online at www. chicagomusicawards.org to select the winners in each category. Only one vote per person from any device will be allowed. VIP Tickets will
be $100 and general tickets will be $55.
For more updates on the Chicago Music Awards visit, https:// www.facebook.com/pg/chicagomusicawards/photos/?ref=page_
internal.