Ex-Offender Finds Redemption via Restaurant Grand Opening
2/7/2018, noon | Updated on 2/7/2018, noon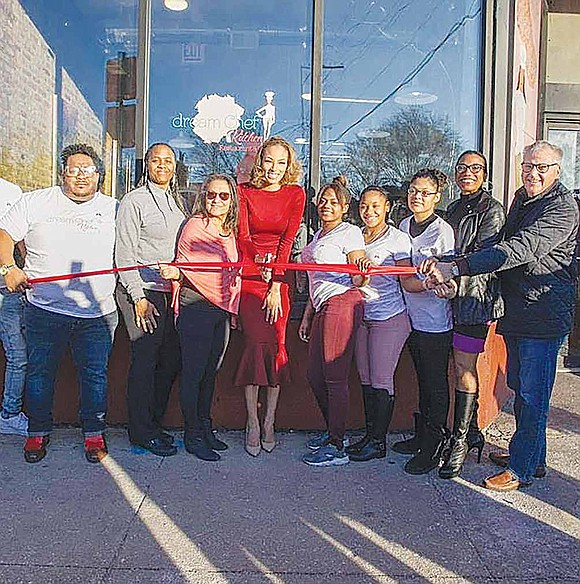 Ex-Offender Finds Redemption via Restaurant Grand Opening
By Christopher Shuttlesworth
Nichelle Benford, a pioneer of the food truck business, recently opened her first restaurant named "Dream Chef Kitchen Restaurant & Catering," after experiencing entrepreneurial setbacks and serving prison time.
Benford will operate her previously established catering business and mentoring program for employment-challenged young women at her new restaurant, located on 611 S. California Ave. Dream Chef Kitchen Restaurant & Catering will serve local companies, organizations and diners "on-the-go" and those who want a sit-down meal.
"I've always dreamt about this day, but I never imagined it would come," she said. "I know the food business and it's something I love to do and look forward to doing every day, but what the experience of opening this new restaurant taught me was the importance of having a good support network."
Benford explained that she was raised by her grandmothers and aunts who were all really good cooks and ultimately, helped her find a passion for cooking when receiving her first cook book at five years old.
"I have always had that joy, comfort and family experience growing up," Benford said. She explained that while in Culinary School, she was indicted and sentenced to 37 months for perjury and obstruction of justice. Benford continued to say she was released from prison after 14 months, with an additional six months being served in a halfway house, due to Benford taking a drug program, which resulted in her shorter sentence.
"I started catering again immediately because I was really focused on what I wanted to be and do when I got home," Benford said. "I took that time [in prison] to study, learn, grow and pray."
She partnered with a friend in the food trucking business and experienced a lot of success, but unfortunately they both parted ways due to business disagreements.
"I felt defeated that the partnership didn't work out because I split ties with a friend that I grew up with, but I ended up starting Dream Chef Kitchen Restaurant & Catering," Benford said. "My attorney, from The West Side Justice Center, who lost my (prison) sentencing case, wanted to partner with me on a restaurant."
She explained that her attorney put together a team and introduced her to an investor who put up the first $25,000 for Dream Chef Kitchen Restaurant & Catering. Benford said she is now excited because Dream Chef Catering will be full of redemption and will serve great food for the community.
"I made it against the odds," she said. "When you go through certain things you feel like your life is over and hopeless. Even with being an entrepreneur, it is very difficult to find funding, but when we didn't know how to get funding, the Chicago Neighborhood Initiatives Micro Finance Group (CNIMFG) loaned us another $50,000 to complete the project."
Benford said she plans to hire family members, ex offenders and community residents in need of jobs.
"CNIMFG is honored to be a community partner of Benford's and other small businesses like hers," David Doig, president of Chicago Neighborhood Initiatives (CNI) said.
"Thousands of men and women from Illinois prisons each year go back to prison within three years, but only a few become entrepreneurs and start new businesses of their own, making it far less likely to return to prison. Our financial services and technical assistance are helping to create new businesses that are reducing recidivism, improving people's lives and providing the amenities that strengthen our communities."
Benford advises entrepreneurs who have dreams to set out a plan and build it up with a team that understands the vision.
"If you have a dream then you need to have a plan and resources," Benford said. "A lot of times we are afraid of asking and putting it out there that this is what we want to do. But when you put something out there, you open up the doors to the available resources. I couldn't have opened up Dream Chef Kitchen Restaurant & Catering without building a team of people who knew about funding. So, you have to keep working
and don't take 'No' for an answer." For more information, visit http://www. dreamchefcatering.com/.