GARY COMER YOUTH CENTER HOSTS TASTE OF COMER CULINARY EVENT
12/26/2018, noon | Updated on 12/26/2018, noon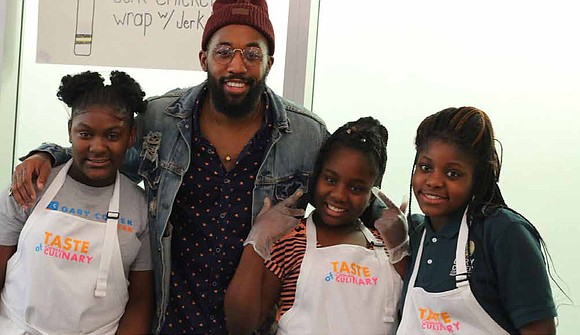 Gary Comer Youth Center Hosts Taste Of Comer Culinary Event
BY KATHERINE NEWMAN
Middle school students from the Gary Comer Youth Center's Seed to Table Cooking Club recently hosted their first Taste of Comer event. Students, families, community members, and local chefs all gathered at the event where they sampled and voted on dishes that were prepared by the middle schoolers.
The Gary Comer Youth Center, 7200 S. Ingleside Dr., opened in 2006 and provides a safe and supportive environment that young people can come to after school, on weekends and during school. The mission of the Gary Comer Youth Center is to ensure all students graduate high school prepared for college and careers, according to a press release announcing the Taste of Comer.
The Seed to Cable Cooking Club is just one of many programs that students can participate in at the Gary Comer Youth Center.
"At the Gary Comer Youth Center we have Cooking Classes five days a week and those classes serve all of our young people from third grade through 12th grade. We also have an employment program that serves youth 18 to 24. The group that hosted the Taste of Comer culinary was our Middle School Group," said Remington Price, the culinary program manager at the Gary Comer Youth Center.
Most, if not all, of the activities that the culinary program students participate in are focused on learning to cook from scratch with fresh ingredients, according to Price.
"A lot of young people nowadays are kind of scared to work with fresh ingredients.
Especially in the Greater Grand Crossing neighborhood where the Gary Comer Youth Center is located. It is a food desert here so getting fresh ingredients isn't necessarily the norm for a lot of our young people and it can be kind of intimidating for them to cook from a recipe and cook from scratch," said Price.
For the Taste of Comer event, students were split into groups and for the three weeks leading up to the event, they worked together to design their menu items, create a production schedule for the day of the event, and develop detailed descriptions of their food.
"They spent probably three weeks planing out their menus and all of the items that they cooked were things that they had come up with. It was entirely their own ideas. We sat down and worked out a production schedule so they knew exactly what time each of the ingredients needed to be finished off and they knew exactly how they wanted to plate it. They also were able to explain to the guests their process of making the food and they were able to talk about the flavor profile of their food. It was really awesome to watch them," said Price.
After each group presented their dish, the guests and chefs that were in attendance voted on their favorite items and awards were given to the winning teams.
Proceeds from the event will help the Gary Comer Youth Center purchase new kitchen equipment for the Seed to Table program.
To learn more, visit www.garycomeryouthcenter. org.