Advocate South Suburban and Advocate Trinity Names New President
12/26/2018, noon | Updated on 12/26/2018, noon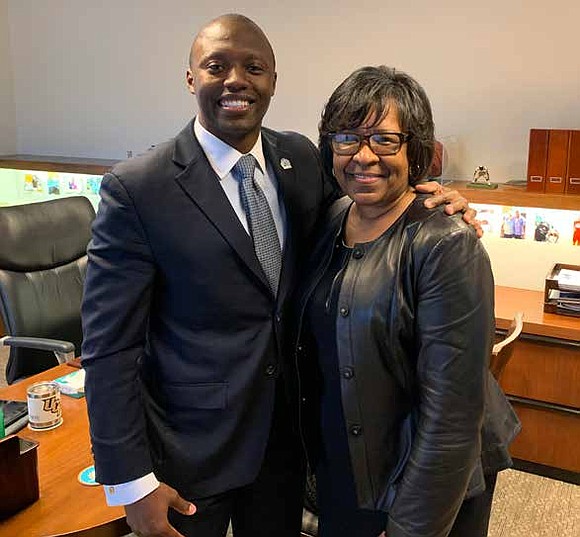 Advocate South Suburban and Advocate Trinity Names New President
BY KATHERINE NEWMAN
Following a nationwide search, Advocate South Suburban and Advocate Trinity Hospitals have recently named Rashard Johnson, a young African American man originally from South Florida, as their new president.
Johnson has a high level of experience in overseeing multi-facility health networks and a strong passion for patient care.
"As the president of South Suburban and Trinity Hospitals, I'm responsible for directing all daily patient care and activities as well as ensuring the strategic vision and implementing our safety and quality goals. I am also responsible for ensuring patient satisfaction and doing it all in a cost-effective manner," said Johnson.
Originally from Miami, Johnson holds a masters degree in health administration from the University of Central Florida. After college, he worked in several health networks in and around Miami before moving to Dallas where he was responsible for two hospitals and 16 hospital-based clinics. After working in Dallas, Johnson was recruited to take a position overseeing three hospitals in Houston. After all of that, Johnson made his way to Chicago to begin his role as the new president of Advocate South Suburban and Advocate Trinity Hospitals.
"For my entire career, I have always had multi-site operations so that was a big draw for me in coming to Advocate. I am happy to have the opportunity to continue to manage multi-site operations," he said.
As for his style of operating, Johnson said that he is very hands-on and doesn't like to spend time in his office.
"The best way to learn your operation and to learn the quality of care that you deliver is to get out and about. I spend a lot of my time rounding on floors, meeting with team members, talking to guests and patients as well as physicians in their settings and that's a typical day for me," said Johnson.
Aside from the work he does within the hospital, it is very important to Johnson to find ways to give back to the communities he is serving and to help increase exposure to health careers for inner-city youth.
"Growing up, I never knew that this opportunity existed. I was born and raised in Miami and never had an opportunity to be exposed to executives and in particular to health care executives," said Johnson. "I consider it a true blessing for me to have an opportunity to be at the platform that I'm at and to have been given opportunities for doors to be opened immediately out of school at a young age and essentially that means that one of my passions is to open up doors for those who are in the shoes that I once stood in."