Black Panther Party leader Fred Hampton remembered on his anniversary death
12/7/2018, 3:54 p.m. | Updated on 12/7/2018, 3:54 p.m.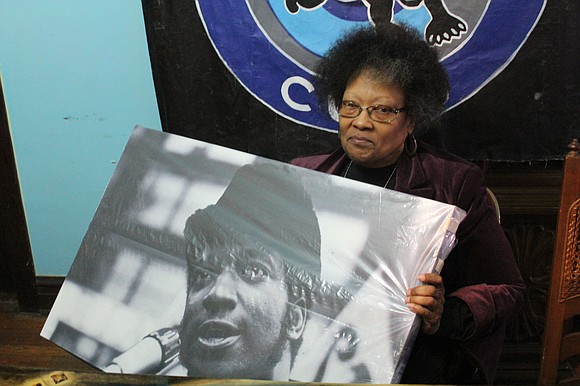 "We want to know how can we help serve our people and how can we help make their lives better. That's what the PCC and BPPC is all about," said Hampton Jr., 48. "The Black Panther Party is still needed today. That's why I started the BPPC."
In October 1966, Bobby Seale and Huey Newton formed the Black Panther Party in Oakland, Calif. Initially Seale and Newton said they started the group to protect local communities from police brutality and racism, but it later became a revolutionary group, which sponsored free medical clinics and breakfast programs for needy children. Black Panther Party alumni include U.S. Rep. Bobby Rush (D-IL), who did not attend the memorial.
Hampton Sr. founded the Chicago chapter of the Black Panther Party in November 1968. He was born Aug. 30, 1948, in Chicago and grew up in west suburban Maywood and graduated from Proviso East High School in 1966.
One goal Hampton Jr. said he is aiming for is to save the childhood home of his father at 804 S. 17th St. in west suburban Maywood. The home is in foreclosure and according to Hampton Jr. about $80,000 is needed to keep the two-story, brick apartment building from being sold.
"We've raised about $11,000 to this date and I am confident we will get enough help to save the building and turn it into a Black Panther Party Museum," contends Hampton Jr. "People from all walks of life have stopped by the house to donate what they could to help. One woman caught the bus from the South Side to drop off a $20 donation."
Two online websites, gofundme.com/officialsavethehamptonhouse, and savethehamptonhouse.org/contribute, have been set up to collect donations.
Hampton's parents, Iberia and Francis, bought the two-story apartment building in 1958. And in 2016, the home was passed on to Hampton's brother, William Hampton, after their mother passed away, and then to Hampton Jr. when his uncle died in February.
"This is another challenge for the Black Panther Party but like every challenge we have faced during our time, we will prevail," said Hampton Jr.
Reflecting back on his life, Njeri added that Hampton Sr. had a good sense of humor but "could not dance." She described the community activist as a "brilliant man who dedicated his life to helping 'our' people. He was my role model, my hero and my best friend," she said.