Unsilence Announces New Chicago Initiative At Benefit Concert
12/5/2018, noon | Updated on 12/5/2018, noon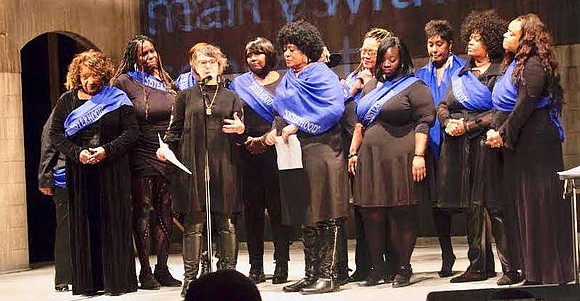 Unsilence Announces New Chicago Initiative At Benefit Concert
BY KATHERINE NEWMAN
Unsilence, a Chicago based nonprofit, recently held a Human Rights Benefit Concert at Victory Gardens Theatre in Chicago to support human rights and equity for all. During the concert, the organization unveiled a new initiative called Unsilence Voices: The Sisterhood.
"Unsilence is a human rights nonprofit organization that is based in Chicago but has a national presence. We work directly with communities to unsilence injustice through storytelling, game design, and the arts. What that means is that we have those really difficult conversations with communities around issues of injustice that are silenced whether that be on
a personal, cultural, or institutional level," said Annie Rezac, executive director of Unsilence. All proceeds from the concert will be used to support the educational programs that Unsilence operates in schools and in communities.
The programs that the organization provides address a broad range of issues that can include mental health, domestic violence, refugee rights, systemic racism, genocide, and LGBT rights. Ultimately the local partners that work with Unsilence make the final decision on what topics need to be addressed in their communities.
"We believe that a barrier to social progress, equity, and human rights is that there are a lot of issues that just aren't talked about and whether that is on a personal level of fear and shame or on a cultural level where there are unwritten rules around things that you just don't talk about because they make people uncomfortable or on an institutional level where there is actually power and laws and policy that oppress and marginalize certain voices," said Rezac.
The new public engagement initiative, Unsilence Voices: The Sisterhood, which was launched at the benefit concert, was created as a direct response to the country's marginalization of the many young people that have lost their lives due to gun violence and their families.
Unsilence Voices: The Sisterhood is part one of what will be an ongoing public engagement series. Through this initiative, Unsilence has partnered with The Sisterhood which is an established nonprofit organization from the south side of Chicago that is made up of over 75 mothers that have all lost a child due to gun violence.
"We decided to partner with this group of women because they wanted to find a platform to amplify their voices and the voices of their children. One of the things that they face as grieving mothers is that people don't want to talk about their children who are murdered because they are afraid to dredge up hurt feelings or they just don't know what to say and that silence actually is really detrimental to the healing of the mothers in that community and causes for their children's stories to be lost," said Rezac
Together, Unsilence, The Sisterhood, and Cecil McDonald Jr., a professional photographer who resides on the south side of Chicago, will be creating an interactive exhibit that features photos of the mothers and share their stories.