SOUTH SUBURBAN COMMUNITY GATHERS TO CELEBRATE HISTORY AND CULTURE
12/5/2018, noon | Updated on 12/5/2018, noon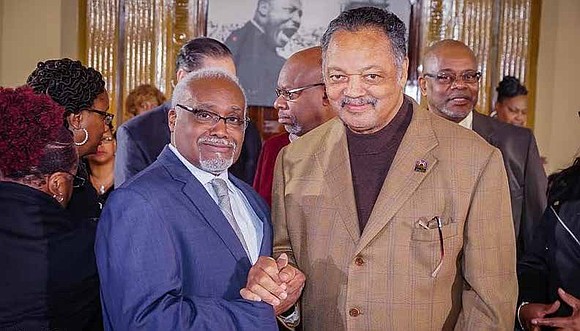 SOUTH SUBURBAN COMMUNITY GATHERS TO CELEBRATE HISTORY AND CULTURE
BY KATHERINE NEWMAN
The Village of Robbins recently hosted Robbins Day at the Rainbow/PUSH headquarters, 930 E. 50th St., as a way to highlight and celebrate the culture and history of the Village of Robbins. Tyrone Ward, Mayor of the Village of Robbins, spoke at the event about the many notable events that have taken place in the community and how he is working to ensure that the Village continues to rise.
Mayor Ward shared a bit about the history of the Village of Robbins which was predominately farmland until about 1910 when Henry and Eugene Robbins opened the first of several subdivisions in the area and marketed them to working class African Americans, according to the Encyclopedia of Chicago.
"Most of the settlers were black working class people who were willing to exchange and even sacrifice the urban lifestyle for an opportunity to own land and build a home of their own. You see Robbins was rising even then," said Ward.
The Mayor also brought attention to the role that the Village of Robbins played in the Underground Railroad.
"We were the first incorporated black municipality in the United States and an integral part of the underground railroad.
There are still remnants of it that exist today and we remain steadfast, working to keep these historical reminders intact and with us every single day," said Ward.
Another significant piece of history that Ward reminded event-goers of was the creation of the Robbins Airport which became a hub for black aviation.
"Even then, Robbins was rising with the help of Bessie Colman, Cornelius Coffey, and Johnny Robbinson who created and built the first black-owned airport in Robbins, Illinois," said Ward.
While the Village of Robbins does have a rich history, there are many exciting events and opportunities that are still taking place in the south suburban community.
"Robbins has become famous for hosting one of the largest back to school festivals and parades in the Chicagoland area. Second only to the Bud Bilikin Parade. Robbins is small in stature, but big at heart," said Ward.
Many African American communities in the south suburbs are currently facing challenges, including the Village of Robbins. However, Mayor Ward said he has a plan. He is currently coordinating meetings with the Illinois Governor-elect, J.B. Pritzker, and members of the local banking industry to ensure that his community is not overlooked when it comes to investments and to make sure all of the residents' needs are being met.
"For over 100 years, we have been doing this. Robbins will continue to rise and Robbins will continue to soar. Robbins will continue to hover around as a great community, as a family community, and as a leader in this generation today and beyond. May God bless America and as I always say, may God bless the Village of Robbins. Robbins will rise," said Ward.