FOOTPRINTS TO RECOVERY NATIONWIDE "SOCKS OF LOVE" CAMPAIGN TO DONATE 10,000 PAIRS OF SOCKS -- LEAST DONATED ITEM -- TO HOMELESS SHELTERS IN TIME FOR HOLIDAYS
Clients at five treatment centers across U.S. to hand-deliver donations as part of recovery process
12/5/2018, noon | Updated on 12/5/2018, noon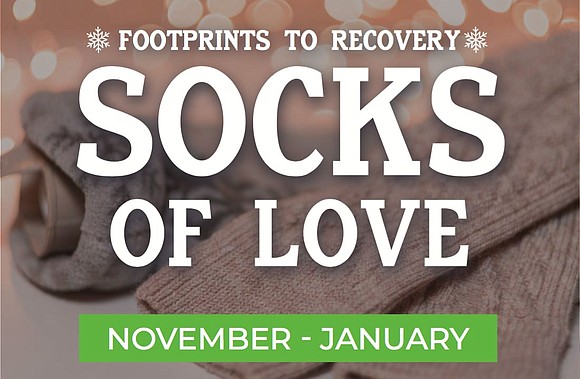 "SOCKS OF LOVE" VISION:
Footprints to Recovery is launching the first-ever national Socks of Love campaign and aims to donate 10,000 pairs of socks.
This goal involves extensive outreach in local communities, plus social media and email awareness campaigns using the #SocksOfLove hashtag. Socks are the least commonly donated items and therefore one of the most needed items at shelters.
Those who donate include not only community members but also Footprints to Recovery staff, clients, clients' families, alumni and business partners. Some individuals order/donate socks online and ship them directly to one of the five treatment centers (addresses listed below), while others prefer to purchase socks then drop them off in person at one of the locations.
Footprints to Recovery clients and alumni process incoming donations and coordinate their delivery. Each treatment facility will provide socks to local homeless shelters. In addition, the treatment facilities located in major metropolitan areas will assist clients in delivering some of the socks to public spaces that serve as shelters for individuals experiencing homelessness.
ABOUT FOOTPRINTS TO RECOVERY:
Footprints to Recovery is a collection of regional drug and alcohol treatment centers with headquarters in Chicago and facilities in Arizona, Illinois, Colorado, New Jersey and Pennsylvania. Each treatment center has a modern, contemporary style and include amenities that help young people in particular feel comfortable. The company also operates a 24/7 call center to answer questions and support individuals in crisis.
Because Footprints to Recovery believes each individual's needs are unique, their facilities provide a number of different resources. These treatment centers provide comprehensive services that include customized treatment planning, individual and group therapy and co-occurring and dual diagnosis care. Supplementary and alternative services include: acupuncture, chiropractic work, massage therapy, meditation practices, pet and equine therapy, spirituality groups, 12-step programming, writing workshops and yoga.
With a focus on advanced, proactive and evidenced based treatment, Footprints to Recovery is a rising leader in the addiction recovery world. A team of dedicated clinicians and specialists allows the treatment centers to offer high-quality care to thousands of patients throughout the country. Their message is simple: There are better days ahead.
ACCOMPLISHMENTS:
Footprints to Recovery has earned the Joint Commission's Gold Seal of Approval
® for Behavioral Health Care Accreditation by showing continuous compliance with its nationally recognized performance standards.
PROGRAMS:
● Addiction Treatment
● Drug and Alcohol Medical Detox
● Partial Hospitalization Treatment (PHP)
● Intensive Outpatient Treatment (IOP)
● Outpatient Treatment (OP)
● Alumni Community
CLINICIANS:All clinicians at Footprints to Recovery facilities are licensed and credentialed. All clinicians specialize in addiction treatment, and many clinicians have additional specialties, such as: trauma, co-occurring disorders, dual diagnosis, EMDR certified, art therapy, experiential therapy, LGBTQ+ and family therapy.