Congresswoman Kelly Talks About Gun Reform And Shows Support For Medical Professionals
12/5/2018, noon | Updated on 12/5/2018, noon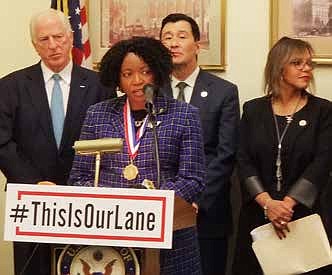 Congresswoman Kelly Talks About Gun Reform And Shows Support For Medical Professionals
BY KATHERINE NEWMAN
Illinois Congresswoman Robin Kelly recently held a press conference alongside several highly regarded doctors to demand congressional action when it comes to gun violence across the nation. The press conference was held in Washington D.C. and included comments from Dr. Niva Lubin-Johnson who is a physician at Mercy Hospital in Chicago.
"We are all here today for one simple reason. We are sick and tired of watching our fellow Americans, our friends, our neighbors, our kids, and our colleagues, needlessly dying from gun violence. Period. That's it. This is about saving lives, pure and simple," said Kelly.
Kelly went on to talk about how, from her viewpoint, too many members of Congress are beholden to the financial support they receive from the national Rifle Association (NRA) and not to the lives of their constituents.
She also talked about the Conceal Carry Reciprocity Act that recently passed through the House and is awaiting a Senate vote.
"This Republican-controlled Congress has done nothing for the last eight years to prevent gun violence. Instead, they tried to make it worse. They rammed through the NRA's baby, conceal carry reciprocity, despite evidence that the policy is dangerous and the strong objection of law enforcement organizations," said Kelly.
The Conceal Cary Reciprocity Act would allow any person with a concealed carry permit in their home state to carry their concealed weapon in any other state that permits the concealed carry of a firearm.
The Act also specifies that certain retired and off-duty law enforcement officers who are authorized to carry concealed firearms will not be restricted by the federal prohibition of possessing and discharging a firearm in a school zone, according to Congress.gov.
Aside from the politics of gun reform, Kelly used this press conference as an opportunity to shed light on the tough jobs that doctors must do every day as caregivers of gunshot victims.
"The people who see the daily reality of this gun violence and the people who fight vigilantly to stop the bleeding, reduce the damage, and save lives are our nation's doctors, nurses and healthcare professionals," said
Kelly. "They have seen things that would make most of us sick. They have been covered in blood desperately trying to save the life of a young person who was at the wrong place at the wrong time."
In October, the American College of Physicians published a paper on firearm injuries and death. In response to that publication, the NRA tweeted that, "someone should tell self-important anti-gun doctors to stay in their lane."
During the press conference, Dr. Niva Lubin-Johnson, president of the National Medical Association and a physician at Mercy Hospital in Chicago, made it clear that she believes gun reform is her lane.
"From a servant leader to you, the NRA, stay out of our lanes while we continue to save the lives of those that are far too often taken away or severely injured much, much too early," said Lubin-Johnson.