CITY CLUB OF CHICAGO HOST PANEL DISCUSSION ABOUT GUN VIOLENCE IN CHICAGO
12/5/2018, noon | Updated on 12/5/2018, noon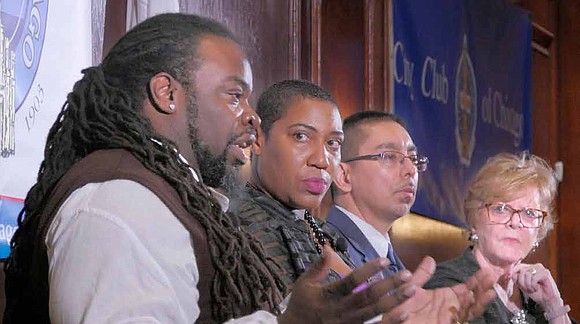 City Club of Chicago Host Panel Discussion About Gun Violence In Chicago
BY KATHERINE NEWMAN
The City Club of Chicago recently hosted Eddie Bocanegra, John Hardy, and Asiaha Butler in a panel discussion to talk about the ways that their prospective organizations are addressing gun violence in the city and what strategies they have found to be effective in preventing violence in Chicago.
Bocanegra is the senior director of READI Chicago, a Heartland Alliance
program that was created as a response to gun violence in the city. As senior director, Bocanegra oversees the management and implementation of the program and believes that their efforts will reduce gun violence and promote opportunity.
"What my work entails pretty much is focusing on those who are at the highest risk of gun involvement, either victimization or perpetration," said Bocanegra.
READI Chicago connects people that are most affected by gun violence in Chicago to 18 months of paid transitional jobs, cognitive behavioral therapy, and 6 months of follow-up support services to help them create a sustainable future for themselves and their families which as a result reduces their chance of being involved in gun violence.
Another panelist, Hardy, is the senior program manager for Cure Violence, an organization that works to stop the spread of violence by treating it as a disease. Hardy uses methods and strategies associated with disease control to detect and interrupt conflicts, identify and treat the highest risk individuals, and change social norms which result in a reduction of gun violence.
"What I've bought into at Cure Violence is to take the public health approach to try to fix what we consider to be a problem in the City of Chicago. Everything that we deal with is some sort of a public health issue," said Hardy.
Like a sneeze that carries bacteria, Hardy said that, "violence spreads like a disease and to stop it you must first detect it and then intervene."
The third panelist, Butler, is the president of the Resident Association of Greater Englewood (RAGE) and works to address violence from the opposite end of the spectrum. RAGE empowers the residents of Englewood to take back control of their blocks.
"Our approach is a little bit different because instead of targeting the shooters or potential victims of shooters, we target the ones who may have influence over them like the working folks and the community members that want a better life," said Butler.
To outsiders, the Englewood community might seem to be full of criminal activity from corner to corner but in reality, the environment can change from block-to-block, according to Butler.
"There are some blocks in Englewood that you wouldn't dare pull a gun out because there are grandmothers and block clubs who would not let that happen, but then there are other blocks that breed criminal behavior so if we can target those residents and give them the tools they need to feel empowered, they can really transform their block and a lot of our work is rooted in that," said Butler.