"We've Got Game!"
8/29/2018, 12:58 p.m. | Updated on 8/29/2018, 12:59 p.m.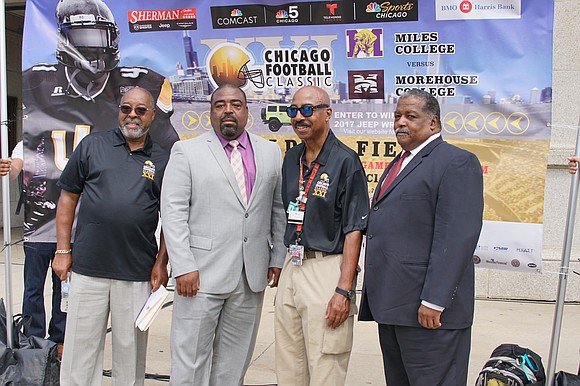 2018 Chicago Football Classic annual press conference touts education, support
for HBC's and community "We've Got Game!"
Soldier Field was the scene of the first 'scrimmage' of the college football season when supporters of both Miles College and Morehouse College joined sponsors, elected officials, community leaders and the clergy at the Chicago Football Classic (CFC) press conference on this Monday.
CFC organizers Tim and Everett Rand and Larry Huggins kicked off the press conference with an announcement of this year's honoree, Secretary Jesse White. They shared highlights of the upcoming event and introduced the Athletic Directors of both schools who thanked the CFC team for their support of education.
Andre' Pattillo, director of athletics at Morehouse College shared that Chicago is one of the largest feeder cities for Morehouse College. Morehouse alum Ron Redd of BMO Harris Bank, a longtime sponsor of the Classic, was , on hand to offer his support to both teams.
Patrick Peasant, assistant athletic director of the Golden Bears of Miles College, also thanked the CFC team for their support of education. He offered that Miles College has the premier college band in their conference and expects it to be quite a contest on both the athletic and performance front.
This year's game will be held Saturday, Sept. 22, at Soldier Field and be the highlight of HBCU Week in Chicago. Tickets are $18, $25, $35and $45 and are available at Midway Wholesalers, 41 W. 84th St., Chicago, IL., 773-874-8000 x4205 and Riteway- Huggins Construction Services Inc., 1030 E. 87th St., Chicago, IL., 773-734-1600; Ticketmaster and Groupon.
On display was the 2017 Neon Green Rocky Ridge Jeep Wrangler offered by Sherman Didge, another longtime sponsor of the CFC. One lucky winner will have the opportunity to win "the ride of a lifetime" with all proceeds going to benefit The Chicago Football Classic Scholarship Fund. Tickets are $100 each and only 500 tickets are available.
About the Chicago Football Classic
The Chicago Football Classic's mission is to support educational achievement, promote higher education, encourage culture and excellence, and showcase the spirit and tradition of America's Historically Black Colleges and Universities by providing an exciting football game in Chicago that aids college-bound students. The Classic's events influence students and parents to consider the rich academic opportunities offered by HBCUs. For more information visit www.chicagofootballclassic.org.