A CJO Salute to Nancy Wilson
8/29/2018, noon | Updated on 8/29/2018, noon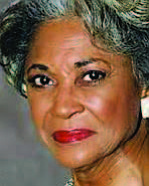 A CJO Salute to Nancy Wilson
The Chicago Jazz Orchestra (CJO), under the direction of Jeff Lindberg, is turning 40 in 2018, marking four decades as Chicago's longest running professional jazz orchestra.
To celebrate, the CJO recently announced an inspired three-concert subscription series starting with a night celebrating jazz diva Nancy Wilson on October 13, followed by the December 21 debut of ELLAbration pairing Ella Fitzgerald's signature holiday songs with Duke Ellington's Nutcracker Suite. The series culminates on May 18 with a major concert event celebrating 40 years of the Chicago Jazz Orchestra.
All three shows in the CJO's 40th anniversary season will be presented at the historic Studebaker Theater, 410 S. Michigan Ave. in Chicago's Fine Arts Building.
Single tickets to each concert are $35 (balcony) and $45 (floor).
Save with a CJO 2018-19 season package: three shows for just $85 (balcony) or $115 (floor), also on sale now at chicagojazzorchestra.org. A CJO SALUTE TO NANCY WILSON
Saturday, October 13 at 7:30 p.m. The CJO presents a special tribute to the inimitable Nancy Wilson, featuring an expanded 40-piece orchestra and guest vocalists Roberta Gambarini, Bobby Wilsyn and Sarah Marie Young.
Wilson, of course, is the renowned American jazz diva with more than 70 albums and three Grammy Awards to her credit. Wilson had several nicknames, from "Sweet Baby" to "The Girl with the Honey-Coated Voice," but her personal favorite was "Song Stylist."