Chicago State University Reinvents Athletic Program With New Hires
8/24/2018, 10:10 a.m. | Updated on 8/24/2018, 10:10 a.m.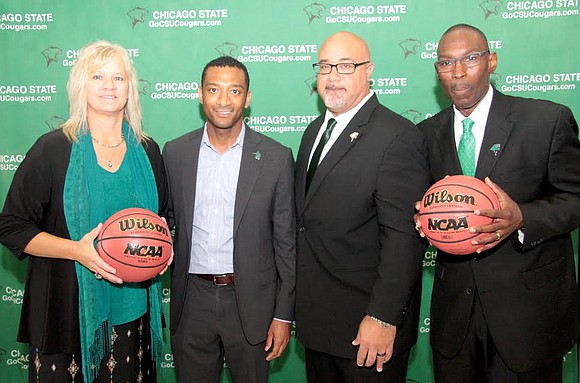 Chicago State University Reinvents Athletic Program With New Hires
BY KATHERINE NEWMAN
Chicago State University recently held a press conference to announce two new head coaches for the school's basketball teams. The school has hired Misty Opat to lead the women's basketball program and Lance Irvin for the men's basketball program. Both teams will kick off their 2018-19 seasons in November.
Opat comes to CSU most recently from Rock Valley College in Rockford, Ill. and Irvin has coaching experience at both the collegiate and high school levels and most recently, he was the varsity boys assistant basketball coach and dean of students at Chicago's Morgan Park High School.
The third new hire for Chicago State University athletics is Chris Zorich who was brought in as the athletic director in May. Zorich is a former Chicago Bear and most recently led the athletic department at Prairie State College in Chicago Heights. Zorich plans to use his past experience to create a better athletic program for the school and for the student-athletes that will build excitement for the school through athletics.
"I know that our student-athletes will benefit from my experiences and that's really why I got into collegiate athletics because I feel that all of my life experiences have allowed me to be not only an example for young student-athletes but it has given me the knowledge of what you should do as an athlete and what you shouldn't do as an athlete. The idea that I've been there and done that and walked in their shoes is very important so I want to bring that to our student-athletes," said Zorich.
Last year, the Chicago State women's basketball team won one game and the men's team won three games. At the end of the season, the decision was made to terminate the women's coach and the men's coach who was also the athletic director. This meant that Chicago State had three positions to fill. Once Zorich was chosen as the athletic director it became his responsibility to find the right people to build up the basketball programs.
"The challenging part was finding coaches that fit our system and had the understanding that we would have to overcome some challenges and that we don't have the largest budget," said Zorich. "Both Misty and Lance have accepted that challenge and at the end of the day, we've had poor records in the past but as coaches, they have the ability to turn that around."
Finding the right coaches was difficult but Zorich found that when he talked to applicants about the athletic department he wants to build at Chicago State University, it became easier to find the coaches that shared his vision.
"Both coaches talked about how when I was hired as the athletic director they knew the school finally took athletics seriously and we have to build upon that. We now have coaches that are behind, and support, the athletic department and that is extremely important," said Zorich.